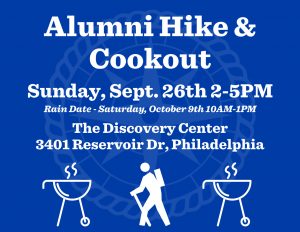 Are you an Outward Bound alum living in the Philadelphia region?
You are invited to a special in-person hike and cookout on Sunday, September 26th from 2PM-5PM for any and all Outward Bound alums! This is a fantastic opportunity to reconnect with friends from your expedition/program and to meet new people who share an Outward Bound connection. Whether you are a POBS alum from two years ago or a Hurricane Island alum from 40 years ago, all are welcome.
It will take place at our brand-new home base, The Discovery Center, in Philadelphia, PA. The hike will be approximately 3 miles on Boxers' Trail in East Fairmount Park, an iconic trail where boxing legend Joe Frazier once trained. After the hike, we will have a typical Outward Bound, end-of-expedition cookout! We will have vegetarian, vegan, and gluten-free options too.
We look forward to seeing you!
BONUS: Find out how you can stay in touch with your Outward Bound family on our Alumni page >