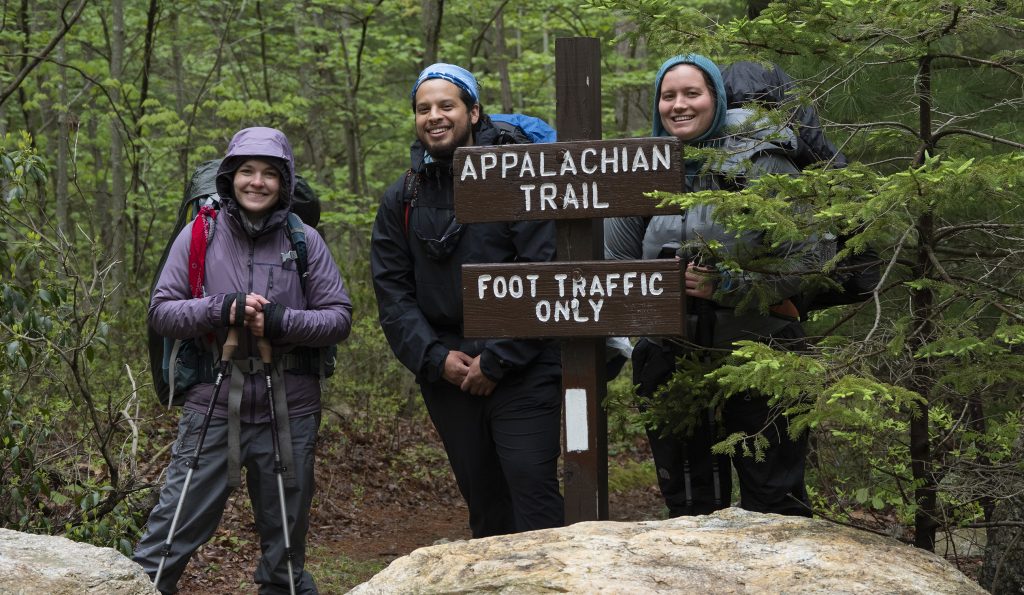 APPRENTICESHIP AT POBS
We are now accepting applications for our Spring 2024 Apprenticeship opportunities!
Our 10- to 12-week-long Apprenticeship is a job training program that prepares folx for a career as a POBS Instructor. Apprentices experience extensive classroom and in-field training. The Apprenticeship includes:
Expedition training
Day program facilitation training
Classroom training in Outward Bound history and philosophy, student management, conflict resolution, safety and risk management, diversity and inclusion, curriculum development, and more
Technical skills training: Backpacking, canoeing, top-rope rock climbing, high ropes, Aerial Teams Course
Opportunities to participate in backpacking and/or canoeing expeditions as a "third Instructor"
Opportunities to work center-based team building programs alongside experienced Instructors
Logistics: Gear maintenance and repair, vehicle maintenance and driver training, vehicle shuttles, base site projects
Upon successful completion of the Apprenticeship, individuals transition into the Instructor role and lead backpacking, rock climbing, canoeing, and/or day-long team building programs.
Please fill out our online application and indicate the season for which you wish to apply.
ESSENTIAL DUTIES & RESPONSIBILITIES
Participate in expedition, classroom, and day program trainings
Participate in expedition instruction and day program facilitation alongside experienced instructors
Practice clear, effective, and timely communication and feedback
Practice teamwork, cooperation, and inclusion
Assist with student supervision, field evacuations, and other various program tasks as needed
Assist with logistical functions such as food preparation, vehicle shuttles, equipment resupplies, and gear maintenance and repair
Adhere to all Outward Bound Field Policies and Procedures outlined in the manual
Adhere to all policies outlined in the Employee Handbook
KNOWLEDGE & SKILLS
Passion for working with youth
Commitment to Outward Bound's mission and values
Exceptional interpersonal skills
Commitment to equity, justice, inclusion, and anti-oppression
Enthusiasm for serving participants with a diversity of identities, backgrounds, perspectives, and lived experiences
Ability and willingness to deliver and receive feedback
Ability to respond creatively, flexibly, and compassionately to the needs of our participants
PHYSICAL REQUIREMENTS
21 years or older
Procure and pass Pennsylvania Access to Criminal History, Child Abuse Clearance, FBI Background Check
Able to be on feet most days, occasionally for up to 16 hours
Valid driver's license and and willingness/ability to drive large vans (we provide driver training)
Able to carry, lift, and move a minimum of 50 pounds
COMPENSATION & BENEFITS
Apprenticeship: $1500/month stipend
Philadelphia Outward Bound School curriculum and facilitation training
Philadelphia Outward Bound School technical skills training
In-house and external professional development opportunities
Upon promotion to Instructor, compensation switches to per diem pay (base rate $116/day; pay increases with number of days worked and applicable external experience)
Optional staff housing is available
SCHEDULE
Apprentices can anticipate a dynamic and flexible schedule. No two days look the same! The Apprenticeship schedule is released in two- to three-week periods. Though the schedule is irregular, Apprentices can anticipate a ratio of five days on to two days off. Applicants who have external commitments are still encouraged to apply; there may be ways to accommodate.
EQUAL OPPORTUNITY EMPLOYER
The Philadelphia Outward Bound School provides equal employment opportunities to all employees and applicants for employment and prohibits discrimination and harassment of any type without regard to race, color, religion, age, sex, national origin, disability status, genetics, protected veteran status, sexual orientation, gender identity or expression, or any other characteristic protected by federal, state, or local laws.