What made you want to rappel off a skyscraper for Outward Bound?
My friend Mitch Young, who is on your board, told me about it and I was like, "Yes, I want to do that. I want to rappel off a skyscraper." My daughter and I both climb at Philadelphia Rock Gyms, and I knew it was something I wanted to be a part of. I think it is essential to have Outward Bound really committed to working with kids who grew up in urban spaces like Philadelphia. It's an organization that I really believe in and one that I've seen transform kids by helping them discover things about themselves and opportunities they'd never even considered before. So donating to the Philadelphia Outward Bound School was easy for me. It wasn't a difficult choice to rappel.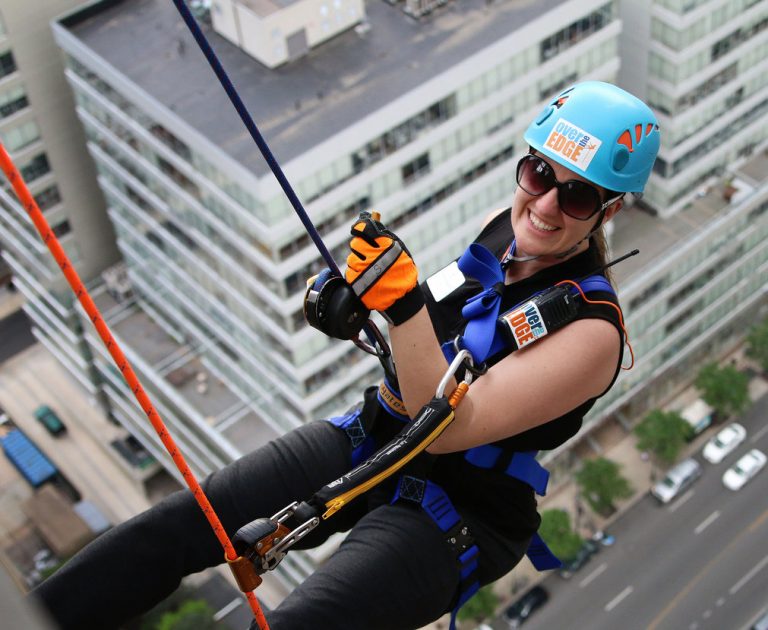 What was your fundraising experience like?
I got great support on the fundraising . . . I was reminded to reach out and share my story with people, and I learned how to go about identifying who to email. I sent out pictures as I was getting ready to rappel, and I ended up crossing my target on the final day of the event. That wouldn't have occurred to me, believe it or not, if I hadn't gotten that suggestion. I found the process overall to be really easy. I got sample emails that gave me a structure of what I might write and also lots of suggestions that wound up being effective. I was able to reach my fundraising goal with mostly small donations between $25-$50. I was really excited to be able to contribute.
Now the big one: What was it like to go "over the edge" and rappel off a 315 ft building in Center City?
Building Adventure was like a great big festive party. You felt like you were part of something exciting. The coordination was so smooth – it was like clockwork. We were trained on how to rappel and how to work the devices in a way that was fun and direct. When my fundraising team went up the elevator we chatted and bonded with the people we were rappelling with. Then we came down one at a time. There was that nice thrill when you feel the weight of the rope tugging at you which is much different than climbing at an indoor gym. There was this "OK, I can do this" moment, which is always fun. As I was coming down there were people in offices waving to me, and the view was just beautiful. You could see pretty far across the city. We were greeted at the bottom, took pictures, and wound up having drinks. It was a great experience.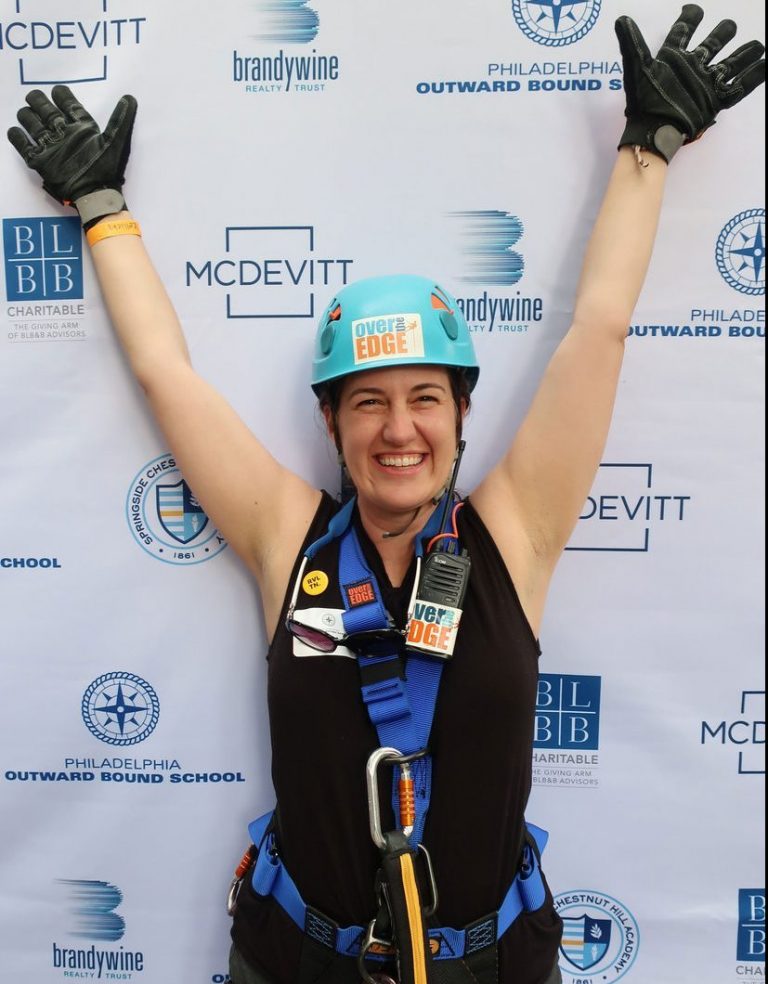 Do you find that the Building Adventure experience mirrors the Outward Bound student experience?
Totally! Every time a kid on an Outward Bound course is asked to do something they don't believe that they can do and then they do it, they realize that there's a possibility they can't imagine. It's that simple. And that happens over and over and over again when you have kids do something that challenges them in that way. Outward Bound certainly creates these challenges but that's true in other ways, like when it comes to public speaking or when it comes to figuring out how to balance algebraic equations. When people discover they are able to do something they didn't know they could do, it changes their sense of what they're capable of.
When were you introduced to Philadelphia Outward Bound School?
While I was teaching at Wissahickon Charter School, I accompanied my students on several urban expeditions with POBS. On the urban expeditions, the kids explored a great deal of Philadelphia. It was pretty amazing … it helped break down the walls between urban education and experiential learning. There's so much potential for experiential learning in places where beautiful nature is accessible. On the urban expedition, I learned a lot from Outward Bound about how you can access the city and create hands-on learning experiences for students. That was exciting for me.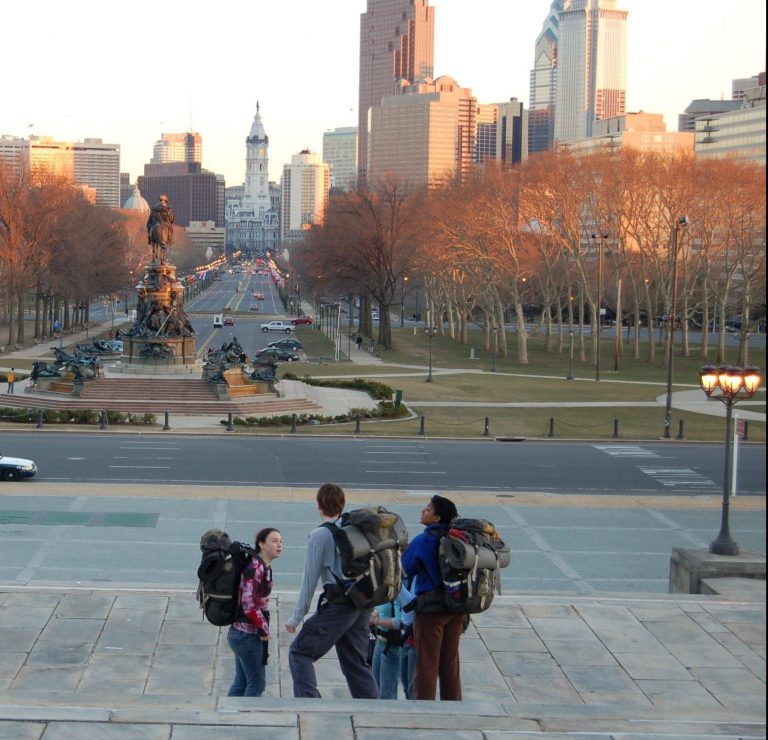 What inspirations did you draw upon to design the program at the Revolution School and your more recent work co-designing the Belmont Charter High School curriculum?
Revolution School and the STRIPES Program at Belmont Charter High School (BCHS) were designed using the Expeditionary Learning model that emphasizes students taking an active role in their learning. These programs have a lot in common with Outward Bound's approach. Our students get out into local neighborhoods to explore issues and take on projects that help them use their own eyes and experiences to understand the world. We challenge ourselves to never use the line "You'll need to know this later." Students have opportunities to learn things that will help them over and over and over.
What expeditionary learning projects have your students worked on?
Last year, my students completed a study of the murals in the area. We partnered with Philly CAM, a public media organization, who worked with our students to develop podcasts that told the story behind the story, basically the background of the murals they researched. We also did a study of real estate and really looked at the American Dream and who has access to it. This year at BCHS, our students have traveled through the Parkside neighborhood to see the work of local entrepreneurs. They've been inspired by the ingenuity of those hiding in plain sight. They're building a network that will support them as they launch their own small businesses this spring.
Did your experience with Outward Bound influence your teaching style?
One of the things that I learned from Outward Bound is the importance of taking the time and deliberately teaching kids how they can productively work through a challenge. Those are the kinds of things I definitely didn't learn in an education grad program. I learned those things by watching organizations like Outward Bound whose instructors are committed to honoring and respecting young people no matter what the conflict was and helping them see pathways out of it. I mean, that's powerful. It's different. ARE YOU READY TO GO OVER THE EDGE?
Join us on October 22, 2021