On Outward Bound expeditions, students spend time on "Solo," a silent time of rest and reflection alone in nature. A student returns from Solo refreshed and invigorated, often gaining profound insight into their life and character. For many, it is a life-changing experience within a life-changing experience.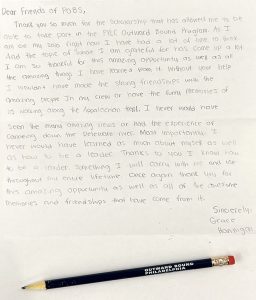 Grace Hannigan, a student on one of our Youth Leadership Corps expeditions, took the time during Solo to write a thank you letter to those who underwrote her participation in the course.
Dear Friends of POBS,
Thank you so much for the scholarship that has allowed me to be able to take part in the PYLC Outward Bound Program. As I am on my solo right now I have had a lot of time to think. And the topic of what I am grateful for has come up a lot. I am so thankful for this amazing opportunity as well as the amazing things I have learned from it. 
Without your help I wouldn't have made the strong friendships with the amazing people in my crew or have the funny memories of us walking along the Appalachian Trail. I never would have seen the many amazing views or had the experience of canoeing down the Delaware river. Most importantly, I never would have learned as much about myself as well as how to be a leader. Thanks to you I know how to be a leader, something I will carry with me and use throughout my entire lifetime. 
Once again thank you for this amazing opportunity as well as all of the awesome memories and friendships that have come from it.
Sincerely,
Grace Hannigan