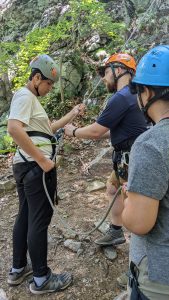 The New Jersey Youth Leadership Corps is a merit-based scholarship expedition awarded to some of the area's elite youth leaders who are excited to challenge themselves and discover their leadership potential.
This scholarship is available for rising sophomores and juniors in the Northern New Jersey area interested in attending this summer's expedition in the Delaware Water Gap.
Challenge yourself backpacking and canoeing through the S-shaped chasms of the Delaware River Water Gap on this leadership-building journey.
Dates: June 30 - July 13, 2024
Age: For students entering grades 10-12
Apply now!
Take the ultimate challenge, as you and a select crew of students from communities across northern New Jersey embark on a 14 day Outward Bound expedition featuring backpacking, rock climbing, and canoeing in and around the Delaware Water Gap National Recreation Area. This course is designed for rising sophomores and juniors who are looking to develop as leaders: young people who are eager to face new challenges and are open to discovering the lifelong benefits and perspectives that wilderness travel with Outward Bound offers.
"These two weeks have completely changed my perspective on life...I am a better and changed person." -Anna V.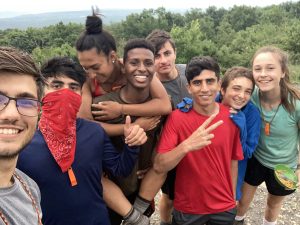 Selection as a member of the crew of the NJ Youth Leadership Corps is both an honor and a privilege. Two crews of 12 participants each will embark on 14-day leadership development and skill-focused Outward Bound expeditions in one of the East Coast's most pristine wilderness areas.
The Delaware Water Gap National Recreation Area encompasses 67,000 acres of mountain ridge, forest, and floodplain on both sides of the Delaware River in the states of New Jersey and Pennsylvania. From the southern end of the park, you can view the S-shaped chasm of the Delaware Water Gap, where the river cuts a twisting path through 1,400-foot Kittatinny Ridge. Within the river watershed, you'll discover steep wooded-and-rock slopes, dark hollows, tinsel-like ravines, and tumbling waterfalls.
Most of this hiking terrain is protected from logging and development and offers both pristine and established camping, rushing waterfalls, twisting streams, and spectacular views from rocky summits. Your wilderness classroom features mountains and trails within the Delaware Water Gap, including 40 miles of the Appalachian Trail and several historic peaks: Mt. Minsi, Mt. Tammany, and the Kittatinny Ridge.
HOW TO APPLY
Complete the online application including a personal intent essay and 2 letters of recommendation, and credit card payment of the $50 Application Fee
Applications accepted on a rolling basis.
Questions? Contact [email protected].
After we receive your materials, you will be contacted for a brief interview.
PHOTO GALLERY
Check out these photo highlights from the 2023 NJYLC course!