Challenge yourself backpacking and canoeing through the S-shaped chasms of the Delaware River Water Gap on this fully-funded leadership-building journey.
DATES: July 22 - August 4, 2024
AGES: For students entering grades 10-12
Apply now!
Take the ultimate challenge at no cost to you and be part of a select team of students from your community to embark on a fully-funded 14-day multi-element expedition featuring backpacking, rock climbing, and canoeing in and around the Delaware Water Gap National Recreation Area. The Youth Leadership Corps is designed for high school students who are looking to improve their understanding of leadership, who are interested in a challenge and are open to learning skills that will offer the lifelong benefits and perspective that only wilderness travel with Outward Bound can offer.
"Thanks to PYLC I know how to be a leader, something I will carry with me and use throughout my entire lifetime." - Grace H.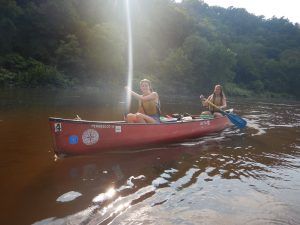 Successful completion of your course demands mastery of skills, trust, fitness, confidence, tenacity, leadership, initiative, and compassion. The promotion of these qualities, and the discovery of your true capabilities is the purpose of Outward Bound. You will climb, camp, hike, and paddle your way past limits, beyond measure, and into a world of self-discovery. To the top, to the edge, to the depths of your soul, you'll learn what it takes to be a leader.
The Philadelphia Youth Leadership Corps is a merit-based scholarship expedition awarded to some of the area's elite youth leaders who are excited to challenge themselves and discover their leadership potential. This scholarship is available for rising Juniors (summer between Sophomore and Junior year) interested in attending this summer's expedition in the Delaware Water Gap.
HOW TO APPLY
Complete the Application, which includes a Personal Essay, and Letters of Recommendation, and credit card payment of the $50 Application Fee
Submissions accepted on a rolling basis.
WE WANT YOU!
Push yourself or nominate someone you know for this unique scholarship-funded opportunity.
Questions? Contact Jennifer Raymond at [email protected].
After we receive your materials, you will be contacted for a brief interview.
PHOTO GALLERY
Check out these photo highlights from the 2023 PYLC course!