Get into the remote backcountry on this fully-funded 10-day wilderness expedition! Travel as a crew, living only on what you carry with you. Build memories you'll never forget.
Dates: June 17-26, 2024
Age: Rising 8th graders (summer between 7th & 8th grade)
Apply now!
Get Out And Lead (GOAL) is an Outward Bound scholarship program that has been developed to cultivate budding leaders through the unique challenge of a 10-day wilderness expedition. The journey, specifically for designed for rising 8th graders (summer between 7th & 8th grade) includes backpacking and canoeing the wilderness of the Mid-Atlantic and rock climbing picturesque cliffs, all at no cost to the participant. You and your peer leaders will eat, sleep, and work together to ensure an unforgettable experience.
"I realized that I was stronger than I initially thought. Being away from home and completing an expedition for the first time helped me realize that." -Adrienne Y.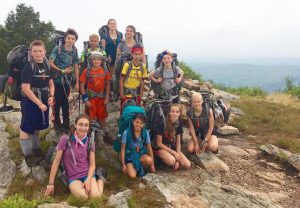 Selected applicants will have the opportunity to learn the value of cooperation and communication in a challenging, team-oriented environment. Upon completion of the course, you will return home with new skills, exciting stories, meaningful friendships, and insight into the strengths that lie within you. As a graduate of Outward Bound's GOAL program, you will have opportunities to cultivate your leadership skills to benefit your community through service projects, reunions, and workshops throughout the year.
The GOAL Expedition is a merit-based scholarship expedition awarded to some of the area's elite youth leaders who are excited to challenge themselves and discover their leadership potential. This scholarship is available for rising 8th graders interested in attending this summer's expedition in the Delaware Water Gap.
(Looking for our Youth Leadership Corps (YLC) course for rising sophomores and juniors? Head here).
HOW TO APPLY
Apply online: Complete the application, including a personal intent essay and two letters of recommendation, and credit card payment of the $50 Application Fee
Submissions accepted on a rolling basis.
WE WANT YOU!
Push yourself or nominate someone you know for this unique scholarship-funded opportunity. Questions? Contact Jennifer Raymond at [email protected].
After we receive your materials, you will be contacted for a brief interview.
PHOTO GALLERY
Check out these photo highlights from the 2023 GOAL courses!