The journey home can be difficult. Let us help.
For more than 30 years, Outward Bound has been proud to deliver wilderness expeditions for our nation's veterans. These expeditions, customized specifically for veterans and active duty service men and women, are designed to help ease the often difficult transition home by drawing on the healing benefit of the wilderness, teamwork, and challenge.
In addition to multi-day wilderness expeditions, we also provide one-day programs at our locations in Fairmount Park in Philadelphia.
Thanks to the generous support of our donors, these courses are available tuition and travel-expense free to any veteran or active duty service member that has deployed to a combat area.
November 4th: Aerial Teams Challenge Course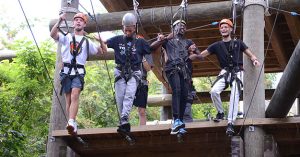 Join us for team building initiatives on the POBS challenge course at The Discovery Center!
9:30 am - 2:45 pm. Lunch will be provided.
Sign up now >
For any questions or more information about our Veterans programs, contact Sam Barnhart at [email protected].
"This Outward Bound experience has given me a renewed sense of self that I didn't have before this trip. I can do things I never imagined doing in a million years. The lessons learned here are invaluable and I will pass them onto my adult son. I learned to simply "trust." Trust the process, trust the universe, trust experienced instruction, trust myself." - US Military Veteran and Outward Bound Alum
Benefits
These expeditions are designed to be fun and challenging. They are suited for those in good physical condition and are opportunities for veterans to:
Re-experience many of the positive aspects of military service through challenge and teamwork
Develop skills to assist them in adjusting to life at home
Candidly discuss obstacles faced by veterans
Rediscover their physical and emotional strengths
Help translate military values and commitment to service in a civilian environment
Enjoy a unique and inspiring adventure surrounded by fellow veterans in the beauty of the country for which they have served
Why We Serve
Everyday men and women in uniform return from active duty only to face the unexpected challenges of readjusting to life at home. Here are some quick facts about what US veterans are facing today:
2-2.5 million soldiers, served in Afghanistan and Iraq
6,500 veterans committed suicide in 2012
27% met the criteria for drug/alcohol abuse 4 months after returning from deployment
20% of veterans have Post-Traumatic Stress Disorder
Results and Outcomes
A study conducted by the University of Texas invited veteran course participants to participate in a web-based survey two days prior to their course, within 48 hours after their course, and then again 30-45 days after their course. Outcomes were then measured against a control group of veterans that did not attend an Outward Bound course.
Reduction in mental health symptoms
Increase in openness to seek professional psychological help
Increase in life satisfaction Significant increase in motivation or behavior that promotes personal growth in one's life
Decrease emotional restriction
"Thank you for giving veterans like me the opportunity to connect with our brothers and sisters in such a unique environment. The experience is unforgettable." - US Military Veteran and Outward Bound Alum
Water Gap Canoeing & Whitewater Rafting for Veterans
Download course information one-page
Outward Bound Veterans is made possible through the generous support of our donors, including the Leadership Support of the Stavros Niarchos Foundation, The Kendeda Fund, and the May & Stanley Smith Charitable Trust.