POBS Racial Justice Statement and Action Plan
Vision for Justice, Equity, Diversity and Inclusion 
POBS was founded 30 years ago to serve Philadelphia youth. Established as an urban base of the Hurricane Island Outward Bound School in Maine, POBS's early leaders fought hard to establish the need for and feasibility of an outdoor experiential education program in our city. Understanding the beauty of Philadelphia – and its challenges – was central to the original vision to cultivate new, young leaders.
We recognize that Outward Bound schools in the US, and the outdoor industry as a whole, have had a history of exclusion, starting with the appropriation of the ancestral lands of indigenous people where expeditions take place, and they have served a mostly White audience with the resources to purchase expensive outdoor experiences.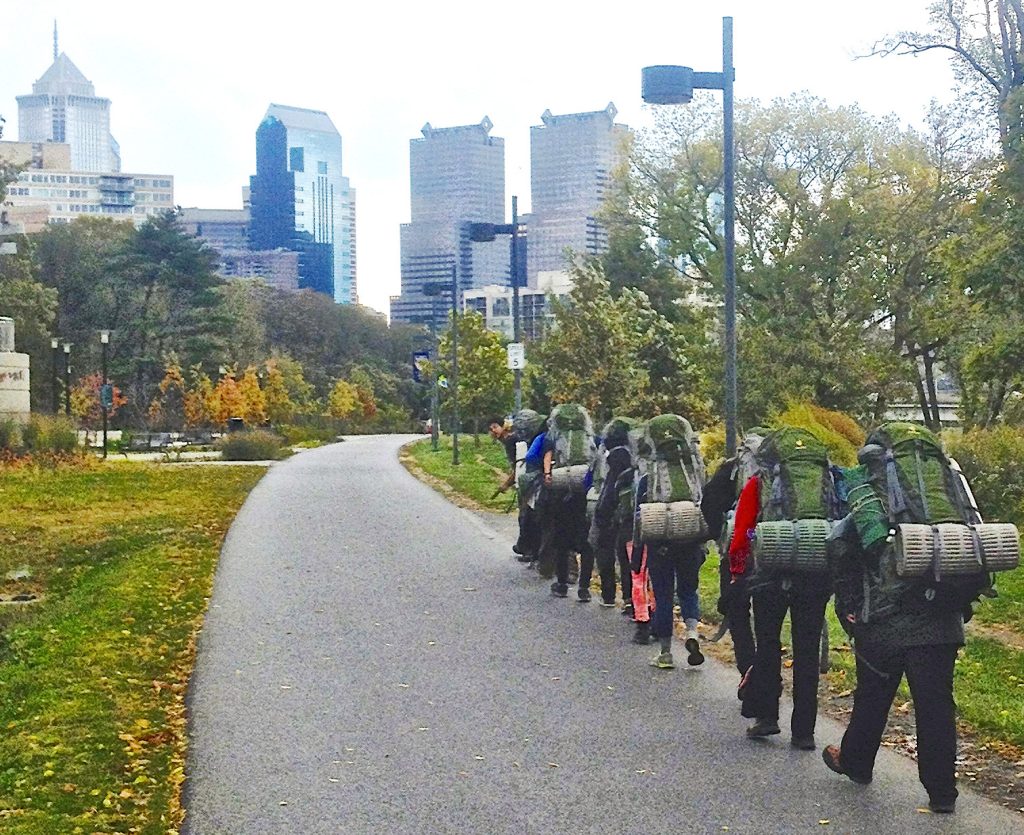 From the beginning, POBS aspired to serve every Philadelphia public school student, an audience that is mostly Black and Brown.  We borrowed concepts and practices from other Outward Bound programs operating in cities, but developed our program and financial model differently. We have focused on partnerships with schools and nonprofit organizations and on access, while relying on philanthropy to reduce barriers to participation.
When students are on a POBS course, we strive to create safe environments for self-discovery that fulfill our organizational values of compassion, integrity, excellence, service, and diversity and inclusion – and we want to help students internalize these values as part of their Outward Bound experience. Still, we have struggled to dismantle structural racism and we can't be sure that our students have always felt a sense of belonging in our programs.
We commit to continuously examining and improving our work in order to create an equitable and inclusive environment for staff and students that reflects our community's demographics and empowers and uplifts all students regardless of their experience with the outdoors.
History of the POBS Equity process
POBS has included staff training on equity as part of its annual instructor training for many years. These efforts intensified in 2019 when POBS staff and board participated in a months-long strategic planning process that focused in large part on how moving into a public space in Fairmount Park would impact how we think about access.
In the plan, we identified five areas of focus for the 2020-2022 period, one of which is to improve our organizational culture to be diverse, equitable and support a sense of belonging. In summer 2020, in the midst of national outrage over the murders of George Floyd, Breonna Taylor, and Ahmaud Arbery, POBS staff and board committed to a series of Action Steps to promote racial justice. The Action Steps set clear goals to measure our progress and be transparent and accountable. We shared the document on our website that summer and published updates in our 2020 and 2021 Annual Reports. You can read more about those actions here.
Now, drawing on a Culture Audit conducted by Cultured Enuf in 2020, staff training with Justice Outside in 2021, and extensive work by a Justice, Equity, Diversity and Inclusion (JEDI) Task Force of POBS staff and board members in 2022, we are committing to additional goals for racial justice and ways that we will invest in and change our organization over the next several years.
Specifically, we want to:
Create a culture of belonging for everyone in the POBS community
Establish and sustain authentic community connections
Create onboarding pathways to hire more local students and alumni
Review and Improve Teaching Materials and Practices; and
Create an organizational infrastructure to support JEDI work.
As our staff and board learns and grows, we expect to continually add ideas to a chart of activities on our website where we track progress (or challenges we are encountering), discuss at bimonthly meetings of the Board of Trustees, and invite feedback from our external stakeholders. Please read about our planned activities and measures of success for racial justice over the next several years here.
We want to hear from you!
POBS is committed to transparency and we are eager to hear your feedback about our equity work. After reviewing the information and links on this page, please share your feedback with the team at POBS here.
Learn More About Our JEDI Work: