VOLUNTEER PROGRAMS
The Philadelphia Outward Bound School offers service opportunities for groups to give back to their communities. Outward Bound will work to design a custom service project that addresses the specific needs at hand. With the program demand at an all time high, our program locations are always in need of help from our service partners.
YOU ARE NEEDED
Service is among our core principles and thus we always seek for our partners to give back. Service to Outward Bound helps us to focus more of our attention and resources to continue to provide life changing experiences for the people we serve in our community. 
LOCATIONS
Service projects can be delivered at our Aerial Teams Challenge Course at The Discovery Center, our Wissahickon Valley High Ropes Course, or at the Lilac House where our staff live between programs. We also offer many opportunities to volunteer at any of our events, whether it be our largest fundraising event of the year or a community Discovery Day.
SUBMIT REQUEST FORM
If you are part of a group that would like to give back to the community, contact Philadelphia Outward Bound School today!
---
"We are crew, not passengers, strengthened by acts of consequential service to others."
- Kurt Hahn
FOCUS AREAS
Fostering Stewardship for our communities
Improving our program spaces and tools
Expedition Gear Care and Cleaning for future students
Beautifying Public Spaces for surrounding communities
Providing a way to give back that is not only impactful, but enjoyable
PARTNER TESTIMONIAL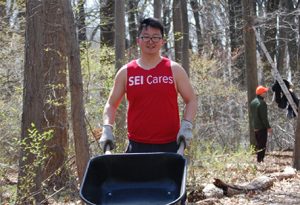 "We love supporting Outward Bound because of their mission to educate people about the outdoors and we always have fun with their active volunteer events. After this event my volunteers were already looking forward to the next volunteer opportunity and so was I. We'll definitely be back whenever we can!"
-Michael Guo (SEI Investments)
OTHER WAYS TO STAY CONNECTED
---