The James McLane Family Challenge Course is designed to build high-performing teams. Whether you're a 9th grade class on an Insight Day, or a corporate team working OB Pro, our aerial teams course (ATC) helps your group discover hidden leaders and find new ways to work collaboratively.
Participants move through a series of high-ropes elements that become progressively more challenging. Each element is designed to assist the group in deepening trust and build on the participants' self-discovery and exploration of what it means to be crew, not passengers, on their Outward Bound journey.
This progression is based around the three phases of every Outward Bound expedition: Training, Main and Final. Our participants may start their journey knowing very little about the path ahead, but through the coaching and encouragement of their facilitators, they become a self-sufficient "crew."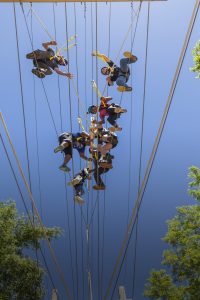 TRAINING:
Students receive hands-on instruction that focuses on skill mastery through specialized lessons.
MAIN:
Students apply their newly- acquired knowledge in a supervised environment.
FINAL:
Students take on leadership roles and responsibility for course activities.
By the end of the program, participants gain a shared experience that not only challenged each individual, physically and emotionally, but also the group as a whole. Participants leave with a better understanding of their abilities and with a community of support they can rely on at work, in life or at school.
Learn more about how POBS uses the ATC in this blog post >