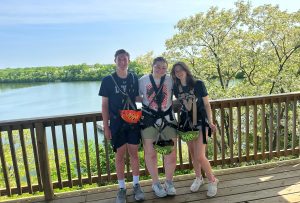 "Since my first trip in 7th grade, Outward Bound has made a huge impact on my life," said Grace, a senior from Springside Chestnut Hill (SCH).
"Philadelphia Outward Bound School (POBS) has provided me with so many amazing opportunities to meet new people and learn new things about myself. By doing my senior project here, I would not only be able to learn about the work that goes into making this possible, but also pay back POBS for everything it has done for me."
If you visited The Discovery Center in May, you likely saw three High School seniors – Grace, Jack, and Emily, engaging in all sorts of activities. That's because they chose POBS as their selected senior project– an SCH tradition of spending the month of May getting work experience before graduation.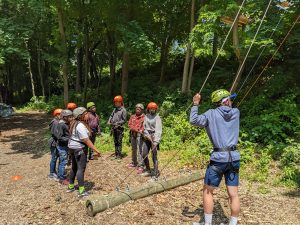 "POBS has provided me with multiple life-changing experiences, so I wanted to learn how they 'make the magic happen,'" said Jack. "It was important to me that I repay POBS for all they've done for me, and I knew the staff members at POBS would be incredibly welcoming and supportive of us."
The students' goals included learning how instructors prepare for both Insight days and expeditions, how to safely facilitate groups on climbing elements, and to understand how different groups respond to POBS programs.
They spent several days observing student groups and supporting instructors during programs, working with the logistics team to ensure expedition gear was prepped, and co-managing groups on various challenge course elements.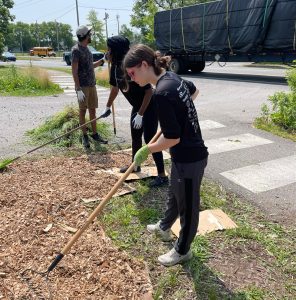 "Everyone was shocked at how quickly they were willing and able to jump in and engage with whatever was asked of them," said Richard Chieffo, Challenge Course Program Coordinator at POBS.
In turn, the ability to be flexible seemed to be a major takeaway for each student as it pertains to POBS programming.
"Throughout the last month, I've learned that one of the most important skills is the ability to adapt," said Emily. "Every single group is different, no one facilitation is the same, and being able to adapt to group needs is what makes the day as successful as possible."
The students agreed that learning about safely operating the challenge course with student groups was a major highlight. As part of their learning process, they were guided through The James McLane Family Challenge Course by Jenn Raymond, the Scholarship and Recruitment Manager at POBS, and sponsor for their project.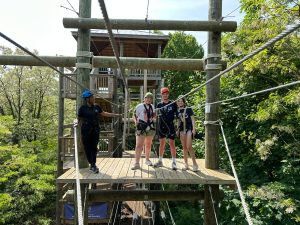 "I wanted to give them their own unique experience on the challenge course, so they knew what it's like for our participants to go through it," said Raymond. "Learning happens when you participate through experience. They were depending on each other up there, and it translated throughout their project. All three of them – you never had to tell them to do something, they were exemplary throughout."
"This experience at POBS furthered my admiration for this organization," said Jack. "The staff members at POBS are unbelievably dedicated to their jobs; an incredible amount of effort is put into making sure both day programs and expeditions run seamlessly." 
Undoubtedly, POBS is a better place because of the efforts of Jack, Grace, and Emily. A big shout (out!) to these seniors, and we're all cheering you on in your next chapters!
The first thing they learned was that POBS gear doesn't clean itself!
That feeling when you complete your senior project!