Beyond serving as base of operations for the Philadelphia Outward Bound School and Audubon Mid-Atlantic, The Discovery Center strives to make the natural space around the Strawberry Mansion Reservoir accessible to surrounding neighborhoods, and provide outdoor opportunities and educational programming to community members. The Center also serves as a place where local community organizations can gather to host meetings, fundraisers, and events of all kinds.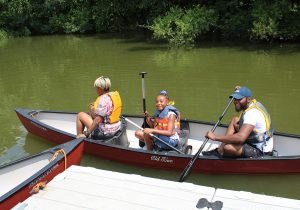 A top priority for POBS has been to introduce our nearest neighbors to Outward Bound programming and to make The Discovery Center and its amenities accessible and welcoming. This year, we launched a new program series: on select Saturdays each month we have been leading community-focused programs at the Center — canoeing on the Reservoir in the summer, ziplining on the Challenge Course in the fall, and rock climbing in the Climbing Tower during the winter. Many of these events have been held in conjunction with programming by Audubon Mid Atlantic, so participants could for example attend a bird walk in the morning and canoe or zipline in the afternoon.
Above and beyond Outward Bound and Audubon programming, 2021 saw a rise in use of The Discovery Center by local community groups. Nonprofit organizations in neighboring zip codes 19121 and 19132 are able to utilize the event space at no cost, and groups like Brothers of Strawberry Mansion, ISA and Friends Foundation, and Families & Communities on the Move have made regular use of the Center.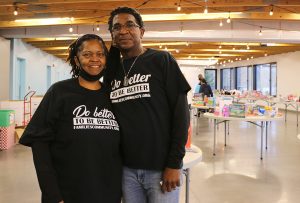 Recently, Families & Communities on the Move held their annual toy giveaway at The Discovery Center for the third year in a row. "I like holding the giveaway at The Discovery Center because I grew up here, and having it next to the reservoir represents vision and hope for the kids," said Chris Pender, the Founder and CEO of Families & Communities on the Move. Pender has already booked The Discovery Center for next year's toy giveaway. "I like it here because The Discovery Center is in the community, for the community," he said.
Representatives from many of these local organizations as well as other neighbors belong to the Center's Community Engagement Committee. The committee meets about six times a year and helps make sure programming is what the community wants. Local community members also receive discounts on hosting private events at The Discovery Center, and the past year has seen several baby showers, memorials and even a few weddings!
You don't need to rent space to enjoy The Discovery Center: just come, wander along the trail, and have fun!
For upcoming events, check out The Discovery Center website >