This article from 1993 tells the story of the very first expedition of the Philadelphia Outward Bound School, then known as the Philadelphia Friends of Outward Bound. The article first appeared in the Fall 1993 issue of Challenge, the newsletter of the Hurricane Island Outward Bound School.
Philadelphia Friends Send 48 inner-city youths and teachers on Outward Bound courses
HIOBS Challenge Newsletter, Fall 1993
A group of Philadelphians, who believe Outward Bound courses can help urban youths overcome difficult obstacles in their lives, raised $37,000 this year and sent 48 students and their teachers to Baltimore for outdoor adventures
The group, called the Philadelphia Friends of Outward Bound, plans to continue raising money to send inner city youths from Philadelphia through the Outward Bound program, says the group's chairperson, Nancy Goldenberg. Philadelphia Friends, which operates as a project of the Hurricane Island Outward Bound School, has been offered free office space by Philadelphia's Fairmount Park Commission, which the group soon hopes to use to continue their efforts.
Four Philadelphia schools participated in the program this summer, including seventh grade classes from Beeber and Adaire Middle schools, a tenth grade class from Audenreid High School and a group of tenth and eleventh graders from Abraham Lincoln High School.
"The students came from different geographic areas in the city of Philadelphia and the groups were racially balanced and included equal numbers of boys and girls," said Goldenberg.
Students from Abraham Lincoln High School went on a seven-day sailing course. Students from Audenreid went on a seven day hiking course, and the seventh graders attended a three-day hiking program. The Philadelphia Friends also received a matching grant from Baltimore's Parks and People Foundation, which enabled them to send one youth on a two week, open enrollment Outward Bound course.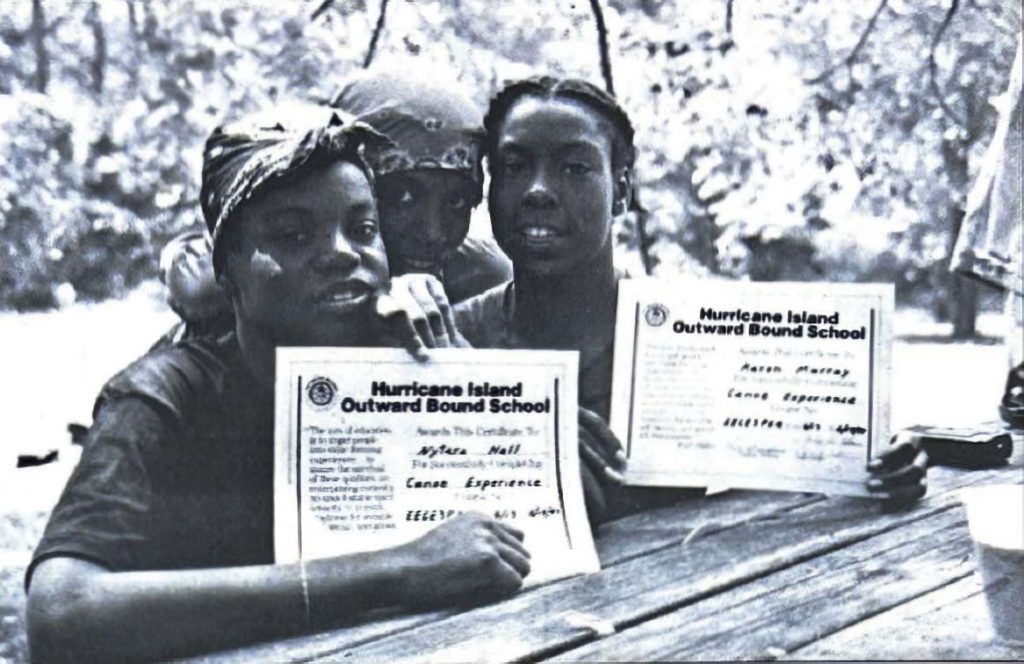 "This pilot program, designed in partnership with each school, is meant to become integrated into each school's basic curriculum and ultimately, become an integral part of school reform and improvement underway in the Philadelphia public school system," said Goldenberg.
Before taking the courses, students and school administrators established goals – from organizing a student conflict resolution team to developing peer-to-peer presentations on the importance of stewardship of the environment – which they continued to work on when they returned. They also developed plans for translating the positive Outward Bound experiences back into their work at school and in their communities.
The Philadelphia Friends will hold a reunion for all the groups who participated in the programs this fall. "An Outward Bound course," the Philadelphia Friends write in their brochure, "is an empowering experience, providing inner strength needed to help overcome difficulties urban youth face in their environment – home, family, school, workplace, peers and daily experiences. It teaches one to look at problems as opportunities to be accepted in a spirit of positive personal challenge and growth."
In addition to Goldenberg, who is the director of Public Information for the Center City District, members of the Philadelphia Friends include: Philadelphia City Councilman Michael Nutter; Fairmount Park Commission Executive Director Bill Mifflin; Meg Callahan of Diversified Search; Joe Frick, the vice president of Human Resources for Independence Blue Cross; Rick LeFevere, the director of Philadelphia City Sail; Edward Zubrow, the director of staff for the Philadelphia public school district; Midge Rendell, an attorney and wife of Philadelphia mayor Rendell; Ludlow Miller, a vice president for PNC Bank; and Hurricane Island Trustees Ed Stainton, an educator at the Crefeld School; and Tim Greenwood, vice president of Boothby and Associates.