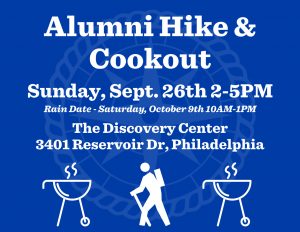 In September 2021, POBS hosted an Outward Bound alumni gathering at The Discovery Center.
40 attendees enjoyed an afternoon hike,  hearty barbecued meal, and story sharing. Participants ranged from a gentleman who did Outward Bound in Kenya in 1972 to several recent POBS grads. A few of our guests said they had no idea there was an Outward Bound presence in Philadelphia when our event invitation showed up on their social media feeds.
The hike was approximately 3 miles on Boxers' Trail in East Fairmount Park, an iconic trail where boxing legend Joe Frazier once trained. After the hike, there was a typical Outward Bound, end-of-expedition cookout.
Below are some of the photos from the day.