Saturday, September 17 - Friday, November 11, 2022
Celebrate 30 years of Outward Bound in Philadelphia with a fun and exciting challenge!
The POBS Distance Challenge is an exciting peer-to-peer fundraiser where you can hike, walk, roll, or run 60, 90, 120, 180 miles, or more between September 17th and November 11th to mark 30 years of Philadelphia Outward Bound School. September 17th is a special day that marks exactly 30 years since the first meeting of the Philadelphia Friends of Outward Bound.
Part of the challenge is fundraising in support of Philadelphia Outward Bound School, and we have an exciting set of prizes for fundraisers...
If you raise $100, you receive a special POBS 30th Anniversary t-shirt!
If you raise $300, you are invited to join us for a special celebration at The Discovery Center where you can experience a part of Outward Bound yourself!
If you raise $600, you get a POBS hooded sweatshirt!
If you raise $900, you are entered into a raffle with some exciting prizes, including a $200 gift card to any of the renowned Safran Turney Hospitality restaurants.
GET STARTED
Getting started is as easy as 1-2-3:
Select your distance goal that feels like a challenge to you. From your walk to a bus stop on the way to work to a weekend walk along the Schuylkill, every bit counts towards your goal. There is no right way to accomplish your goal- just get outside!
Start logging your miles!
Why should I participate?
Your support will go directly to advance our mission of changing lives through challenge and discovery and to supporting our powerful outdoor education programs that serve thousands of youth in Philadelphia and beyond.  Our outdoor education programs help build powerful social-emotional skills in students with an educational model practiced in Philadelphia for 30 years and around the US and the world for over 60 years.
We welcome folks of all abilities and experiences to join us! Whether you're training for the Philadelphia Marathon in November, looking to explore more of your region on foot, or simply trying to build your fitness and stamina, this is a great way to reach your own goals while supporting a great cause.
How does the event work? 
1) Sign up here - the $10 registration fee is waived if you raise a minimum of $30.
2) Choose the distance you want to run, hike, walk, or roll in the 8 weeks between Saturday, September 17, and Friday, November 11.
3) Set a fundraising goal, and share your fundraising page with your community and let them know why you're participating. The more you raise, the more prizes you are eligible for!
4) Reach your goal by November 11 and get ready to celebrate - if you raise at least $300, you will be invited to an exclusive celebration at The Discovery Center!
PRIZES!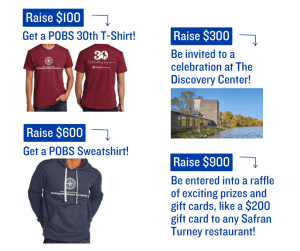 QUESTIONS?
If you have any questions about this race, please contact Ethan at [email protected]