For many, experiential education is not a preordained career path; it's often found through one's lived experiences.
According to Emily Della Fera, a 29-year old Center-Based Faculty Instructor, that's the kind of path worth taking.
"You learn from the bad ideas just as much as you learn from the good ones," said Della Fera with a smile.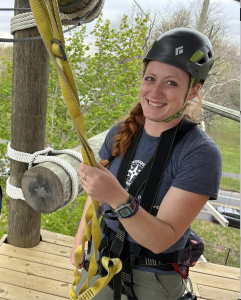 Della Fera, a Spanish Language and Literature major with a minor in Italian at Temple University, developed an itch to explore, so she studied abroad in Spain.
After graduating, she embraced a new adventure, rich with personal growth and cultural exchange.
"After college, I spent three months teaching English throughout Italy while living in homestays with a program called Accademia Culturale Linguistica Educativa," said Della Fera. "I got to see Italy that way, which was really cool."
Those three months came and went.
"Then I went to Ecuador, and the plan was to teach English there for nine months," said Della Fera. "I wanted to learn other languages and cultures and continue traveling."
So she headed South to work for The Tandana Foundation, a non-profit in Otavalo Canton, where she planned to work as an ESL teacher.
As the story goes, nine months turned into five years.
When her original stint flew by, she decided to continue working at The Tandana Foundation for an additional three months. She'd end up working there for the next four years.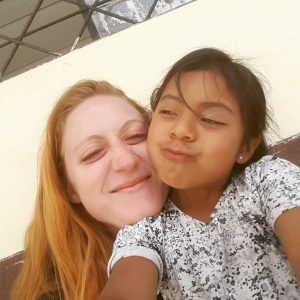 "Being far away from your safety net is always scary," said Della Fera. "But then you create that safety net once you get to where you're going. And you can always go somewhere else, you can always start new, try something different. Nothing is absolute."
Della Fera's work responsibilities varied while in Ecuador. Besides teaching English, she worked on local infrastructure projects, coordinated Summer school programs, and facilitated illuminating conversations between volunteer service groups and the indigenous communities, like the Kichwa, in order to establish mutually beneficial relationships.
In 2019, her last year in Ecuador, Della Fera and her partner rented a house in Ibarra, and turned it into their own private English school, The Cardiff School of Languages.
What initially started as a somewhat loose plan to travel and teach English for three months in Italy had ultimately morphed into starting her own school in a foreign country!
"It was difficult," said Della Fera. "We worked six days a week. We lived where we worked. It was a great experience, and I learned buckets from it."
Ultimately, it was time to move back to the United States.
"Being in Ecuador opened so many opportunities for me," said Della Fera. "It made me realize there's this whole world and job opportunities out there that I could fit into. This whole idea of being an experiential educator and leading programs and volunteer groups — I had no idea any of that existed. The people I met, the things that are important, the things that aren't important, it really makes you think about that stuff."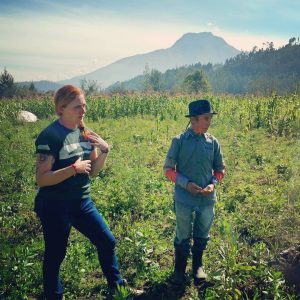 Della Fera's passion for working with service groups as part of a larger community context would eventually lead her to POBS.
"I had never heard of Outward Bound until I was in Ecuador." said Della Fera. "I was leading a group, and my co-leader happened to work for New York City Outward Bound. I liked the idea of getting to work with groups again in an experiential education context, especially the learning by doing aspect. So I did some research and realized that POBS had both expeditions and day programs, which I liked."
Della Fera's desire to work with groups and facilitate programs again is what hooked her. "And then I met everybody," said Della Fera with a laugh. "It was an instant click. You know when you find your people and you just feel it? I found my people, it just felt right."
Della Fera will be graduating from the School of International Training this August with a Masters in Intercultural Service Leadership and Management. While completing her education, she's getting a healthy balance facilitating both expeditions and day programs with POBS.
While this sounds like a wide-ranging workload, it's just the way Della Fera likes it.
"I love change within a constant," said Della Fera. "At POBS, I wake up knowing I'm going to work, but I don't know exactly what the day will bring. Sometimes I'm coordinating, sometimes I'm facilitating. There's so many different roles I get to play which keeps everything interesting and fresh."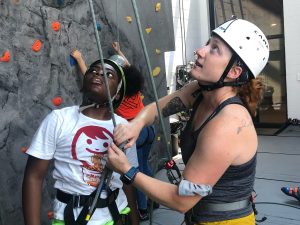 This seems to be both the challenge and discovery for those who make their way to POBS, for staff and students alike. It's those that view change as an agent for growth, as opposed to something to shy away from, that seem to maximize what experiential learning has to offer.
So with these dynamic, rich life experiences in her back pocket, the million dollar question is what Della Fera now hopes to impart on the students and communities she engages with while at POBS.
"I think my mission within all of this is just helping students gain those connections with others, expand their horizons, and learn about themselves while gaining confidence. I hope they feel comfortable and safe. That they have a good time, whatever that may look like for them. I hope they have fun and leave here with a smile."