"Never quit on a bad day," says Madeline Troyer, a Field Instructor for the Philadelphia Outward Bound School (POBS).
That's the mantra which anchored Troyer as she trekked all 2,190 miles of the Appalachian Trail (AT).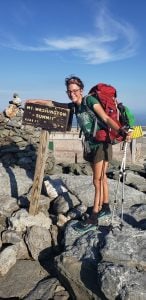 It took Troyer 128 days of continuous hiking and camping underneath the stars to walk from Springer Mountain in Georgia to the windy, remote peak of Mount Katahdin in Maine.
"That first day and night on the AT was terrifying just thinking of what lay ahead," says Troyer.
Troyer earned a degree in Sustainability with a double concentration in Agriculture and Community Development from Messiah University. In High School, she recognized the seriousness of climate change, and felt inspired to be part of the solution.
Troyer loved learning about the natural world in a school setting. She'd regularly study the surrounding plants and trees, spending time on the sliver of the AT near her school in the process.
"My interests evolved while I was in college," says Troyer. "I wanted to better understand the human relationship with nature, and see how that relationship could be more reciprocal, instead of thinking about humans as being above nature."
Troyer spent so many years learning about nature from an institution that she felt the time was ripe to take her education into her own hands.
Shortly after graduating, Troyer, who'd eventually earn the trail name "Curly" because she'd "sleep curled up in a ball, has curly hair, and curly fries are way better than French fries," began saving up funds, gathering gear, and planning her great adventure.
Troyer had done only a small handful of brief overnight camping trips while in college. Certainly nothing nearly as ambitious as solo hiking the AT. But that was merely a minor deterrence in Troyer's mind, as she continued planning her AT thru-hike.
On February 26, 2020, her first night camping on the AT, Troyer felt an initial twinge of questioning what she'd gotten herself into. These feelings mellowed out that same night when she met a fellow hiker with the trail name "Snackpack". Curly and Snackpack realized they had similar mileage goals, so they agreed to hike the initial leg of the trip together.
Eventually, Curly and Snackpack parted ways in Tennessee due to unforeseen logistical complications regarding Covid-19 restrictions.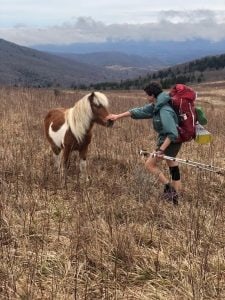 At that point, Troyer found her groove as a solo-hiker as she had initially planned. "I loved being able to hike, think, and live at my own pace," says Troyer. "There was nothing else to do. No communications, no distractions, no emails to send, or cleaning to do. All I had to was hike. It's powerful to know that you can take care of yourself, and make it through those hard time by yourself."
Troyer concedes that nighttime was scary at first. "You'd hear all these noises and wonder 'is that a bear?!'" Eventually she settled in, and now remembers sleeping like a log most nights.
She'd frequently find herself fantasizing about gourmet foods. "I'd be dreaming of elaborate meals involving potatoes, gravy, and steak" says Troyer with a laugh. In reality, Troyer used mac & cheese, ramen, cosmic brownies, Snickers, and instant mashed potatoes as fuel for her average 22 miles of hiking a day.
This wide range of emotions and new norms accompanied Troyer as she made her way North. With so much time to ruminate, she'd often wonder why she was out there. And then she'd meet a fellow thru-hiker and realize how amazing they were, or she'd focus on the beautiful scenery as she'd walk. She'd remind herself of her trusted mantra to "never quit on a bad day".
Troyer finished her thru-hike on July 3rd, 2020. Upon reflection, Troyer says, "hiking the AT was the hardest and best thing I've ever done."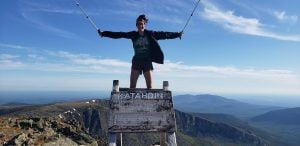 Troyer is thrilled that she stuck with her original goal, despite the challenges, because of the core lessons she learned along the way.
"The human body is amazing," says Troyer. "It can do way more than you think it can. There were times I was convinced I couldn't go another step, and then somehow, it would take another step. This is true both physically and mentally, and there's power in knowing that."
As Troyer reflects on her thru-hike, she recognizes that it's not a requirement to hike all 2,190 miles in order to enjoy the natural world and learn about yourself in the process.
"Everyone has to hike their own hike, so to speak ," says Troyer. "Some people hike fast, some go slow. Some aspire to travel great distances, while others just need some fresh air on a day-hike. One way isn't better than another. Hike your own hike."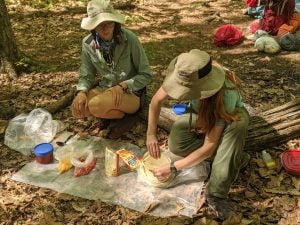 Troyer learned another important lesson on-trail, which now informs her work, both as an Insight and Expedition instructor at POBS.
"I learned to slow down, disconnect, and enjoy life," says Troyer. "On the AT, titles don't matter. That's what I loved about trail names. It strips you down to your core. You could be hiking with Doctors and millionaires. Or with someone who's homeless and living on the trail, possibly a Veteran, a High Schooler, a new graduate, etc. Well, none of that actually matters. We all learned just to enjoy each other out there."