Since 2007, Emilia Rastrick has been the Health and Physical Education teacher at Lingelbach Elementary School. Emilia has chaperoned more than 14 Peer Leadership expeditions and participated in countless day programs with her students.
When Emilia told us that this would be her last school year with the School District of Philadelphia, we were sad that our goodbyes wouldn't be at the end of an expedition. So instead, we asked Emilia to share a few stories of her time out on the trail. 

This interview has been edited for length and clarity.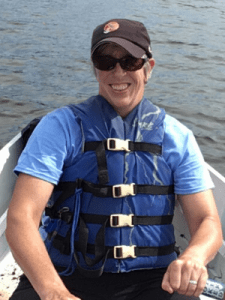 Why did you want your students to go on an Outward Bound expedition?
One of the reasons I wanted to teach at Lingelbach was to be in a school that was close to the Wissahickon. However, once I was there I quickly realized that even though the students live in Germantown, a lot of them don't get out into the woods. They don't go out and explore the trails. I knew that I wanted to take students on course and have them experience a more natural outdoor learning environment.
What was it like as a chaperone on your first expedition with Outward Bound?
My first year at Lingelbach I managed to recruit eleven students for a backpacking trip - it was quite an expedition . . . definitely an eye-opener in many respects. One of the students, she's in grad school now, still references the course when I see her.
The first time you are a chaperone on course you are definitely one of the students. You're in this mixed role where you work with the instructors and you sort of know the process but you're still figuring out. You're also learning how to set up the tarps and cook in the middle of a thunderstorm, of course, all the while, trying to keep students motivated to keep going when everyone is miserable and wet.
It was probably the best way to roll into Outward Bound.
What do you think students gain from their Outward Bound experience?
I think there are two things which are incredibly valuable about Outward Bound - there's the challenge and then there are the relationships that are deepened on course. On course, students are challenged to leave their parents, go with minimal equipment, be around the same people 24/7, and live in a tent or under a tarp for five days. They are doing something so outside of what they do on a daily basis that they learn to adapt quickly and to build resilience. I love pushing students to build that resiliency and, to me, that's what the challenge of Outward Bound does.
I've also enjoyed watching the process of students learning how to work together on course - especially with people they don't particularly like or that they wouldn't normally work with - and then watching students build those relationships into friendships and seeing how those friendships develop when we get back to school. It's been one of the joys of Outward Bound.
Students may not become best friends but if something is going on in school I can always say, 'Hey, you guys did a great job on course and I know you all can step up to be leaders.' That little push often gets students to remember, 'Oh yeah, I'm better than that.' Those relationships between students, as well as my relationships with students, has been valuable over the years.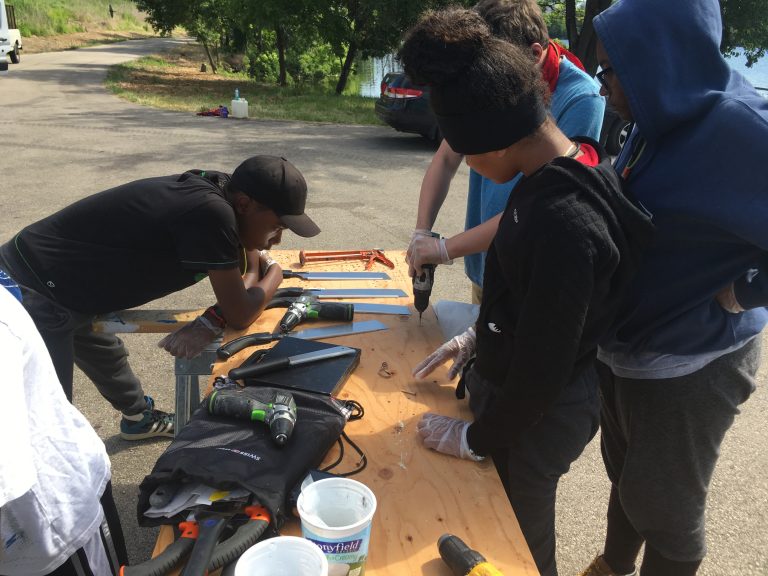 Is there a student or an expedition that was particularly memorable?
We did a Circuit expedition a few years ago. It was a boat building course.  One of the students that came on that course was a tough kid. It was the week before the expedition and I had one more spot left. So I called his parents and said 'We want him to do this.' On course, I watched him go from the tough dude who had a really short fuse and would easily get into fights, to someone super focused on the carpentry and the boat building. A lot of the other students on the course were students he would never hang out with but he really blended with them well and shined. He took a great deal of pride in producing those rowboats. It was pretty special to see that happen. It was one of the biggest transformations that I've seen a student go through on a course. By the end of the course, people were listening to him and following him in a good way, not in a negative way.
I'll take chances on people. Often the students who are on the edge behaviorally, or have challenges, shine when they're out in the woods. Those are the students who need to be on the course more than anyone else.
Watching and observing students outside of the building helps me build those relationships with my students and understand them more.
About a week later I always check-in with students to tell them 'I'm really proud of you. What you've done other students were not willing to do, and you accomplished that.' Having that conversation with a student, and reassuring them that they've done something pretty special, is very important.
How has Outward Bound had an impact on you as an educator?
The more powerful thing I've learned from Outward Bound is how instructors communicate and how they encourage students to be a part of the process. It's not a power struggle. It's a conversation. That's been really important for me to observe and to implement either in class or with different teams that I coach at school.
I've also learned a lot from how the instructors debrief an activity in order to promote deeper learning through games and challenges. As a teacher, it can be challenging to get 25 - 30 students to do deeper debrief in a 45-minute class, but I've learned different tactics and techniques from Outward Bound.
Why is time for reflection important to Outward Bound's process?
It is through that reflection process - taking 10 seconds, two minutes, or two hours on solo - when things sink in and the learning happens. You can play games, but when you actually accomplish something as a group and reflect on what it means - even if it's just a 30-second conversation - that's when maybe a switch will click or a student will realize 'Oh yeah. I'm an over talker and I tend to take over.'
What would you say to an educator taking their students on an Outward Bound expedition?
You're planting a seed for the future. You're providing them with an experience which they can reference in difficult times. You may not see the reward but you're actually building a longer-term success in a student.
Thank you for Emilia for your years of service and dedication to POBS and your students. You've had an indelible impact on the Lingelbach community, and we are humbled by your deep conviction in the power of outdoor education. We wish you the best of luck and continued success in your new endeavors. Peace, Love, and Chow!