POBS' Partnership with Neighborhood Schools Will Help Track Student Outcomes
"I learned a lot about leadership," said 12 year-old Ben, reflecting on his Philadelphia Outward Bound School (POBS) experience. "I've learned to be more open with people. And overall, I've learned to help my group more and just to be more selfless."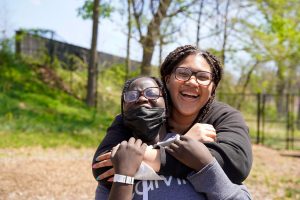 "When I go back home, I'll definitely be more prepared for challenges that come because I've learned how to overcome challenges while here," said 13 year-old Amelia.

At POBS, we often hear about the effects of "Outward Bound magic" on students and how our programs create long-lasting change in their lives and perspectives. One of our goals is to better understand and quantify the effects our programs have on the youth we serve – to find and share the data behind the "magic."
That's why, in the Fall of 2022, POBS entered into a partnership with eight Learning Network 11 (LN-11) Middle Schools in Strawberry Mansion. Funded by a three-year grant from the John Templeton Foundation, one of the goals of this partnership is to help us show that a shared character-building experience can create new outcomes in students' self-perceptions, produce positive changes in school climate, and promote students' long-term social, emotional and educational success.
This project presents a unique opportunity to track outcomes in individual students over their time within the school network. POBS engages 7th and 8th graders from the schools in a one day Insight program, provides a five-day small-group expedition for 8th graders, and works together with teachers and staff to deepen our shared understanding of character strengths.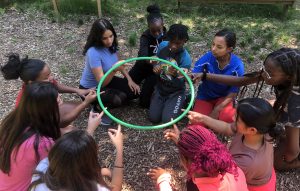 "The main idea with these programs is to create an intentional program progression for 7th and 8th graders to benefit the students and their school communities," said Emily Della Fera, Associate Director of School District Partnerships at POBS.
"It's a really cool opportunity for those students who will be able to come back to POBS more than once and build on those skills over a longer time horizon, as opposed to a standalone day with POBS and that's it. Additionally, both POBS and LN-11 schools will be able to more easily gather consistent data on impacts of the programs and improve outcomes for students."
In 2017, Outward Bound USA (OBUSA) worked with Dr. Gil Noam and the PEAR Institute to develop an observational tool to codify effective program decision-making and describe the types of character development outcomes that Outward Bound programs aim to achieve. These were grouped into broad categories: Belonging, Courage, Physical Engagement, and Reflection.
As part of this process, OBUSA also developed a standard survey to measure students' self-assessed scores on statements like "I react to things so quickly that I get in trouble" and "I like to help people with their problems." All of our LN-11 students will take these surveys, which will help us quantify the efficacy of our programs.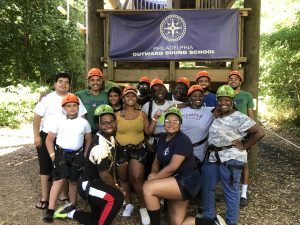 "An overarching and unique feature of this partnership is that we're measuring to see if our programs can help encourage growth and improvement in school culture," said Della Fera.
The core activities of these programs will remain the same. Students will still be exposed to new experiences, environments, and "feet on the ground", team-focused activities which they may not have had the opportunity to explore before, including rock-climbing, backpacking, canoeing, and multi-day expeditions at our various operating sites.
This partnership between POBS and Learning Network 11 is a growth opportunity for everyone involved and is sure to make a positive impact on the students of Strawberry Mansion for years to come. We look forward to sharing the findings gleaned from this initiative with schools, families, and other stakeholders as the data becomes available.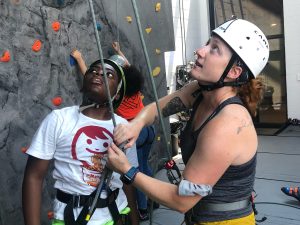 "Collaborating with the LN-11 team on program goals and progressions has been a work of love, bound by a commitment from the individual schools, the District, Outward Bound – and the students themselves – to seeing students grow and thrive," said Kim Glodek, POBS Director of Partnerships. "Together, we are reimagining what school partnerships can be."