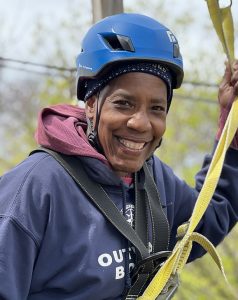 An experienced Outward Bound instructor, Jennifer Raymond is the Scholarship and Recruitment Manager for the Philadelphia Outward Bound School, where she forms long-lasting relationships with POBS students.
Born in Trinidad, Jennifer Raymond says she is thankful for her upbringing in the Caribbean. "It shaped who I am now and how I interact with students. It has to do with planting roots, not jumping around, for example with many different jobs. When you stick with something, that's when you see the fruits of your labors."
Raymond came to the United States in the 1980s as a child. Her mother was a nurse who wanted a different life so she emigrated to Baltimore. "It was hard at first," Raymond said. "I had to make new friends. And it was jarring, not what we were used to. People did not say hi to each other."
As she got older she took a job working at a school for kids with disabilities.  "It was a school for children with cerebral palsy and those kids taught me the beauty of nonverbal communication. They taught me patience. I learned about myself. I learned that if you put your mind and heart into something, you can accomplish so much."
After that, Raymond began working for AmeriCorps, a program that allows kids to find out what they want to do after high school.  And that's how she found her life's calling.
"I saw the kids on the ropes course and I wanted to participate, too."
"I got connected to Outward Bound through a field trip I went on while working with AmeriCorps. We took students to Baltimore Outward Bound and I thought it was awesome. I saw the kids on the ropes course and I wanted to participate, too, but they told me to go sit on a bench with the other adults. Instead, I went into the office and introduced myself and ended up getting an internship there. That was in 1999.  I've been with Outward Bound ever since."
Raymond worked for Outward Bound in Baltimore, Maine, Florida, and New York City. Then in 2003 the Philadelphia Outward Bound School (POBS) started doing urban expeditions. "So I came up to Philly and I loved the urban expeditions," said Raymond. "The idea is to introduce students to their own city, and give them activities like talking to strangers, interviewing people, performing service. Many of the kids had never left their own neighborhood, so kids from North Philly would see Center City and Penn's Landing for the first time and they're like, 'wow!'"
In 2005 POBS started doing expeditions in the Delaware Water Gap and Raymond was kept busy. "I was instructor and course director on the courses going out, plus we had Insight days. Then in 2007 we started doing merit scholarship courses GOAL and YLC. The next year we started doing open enrollment courses."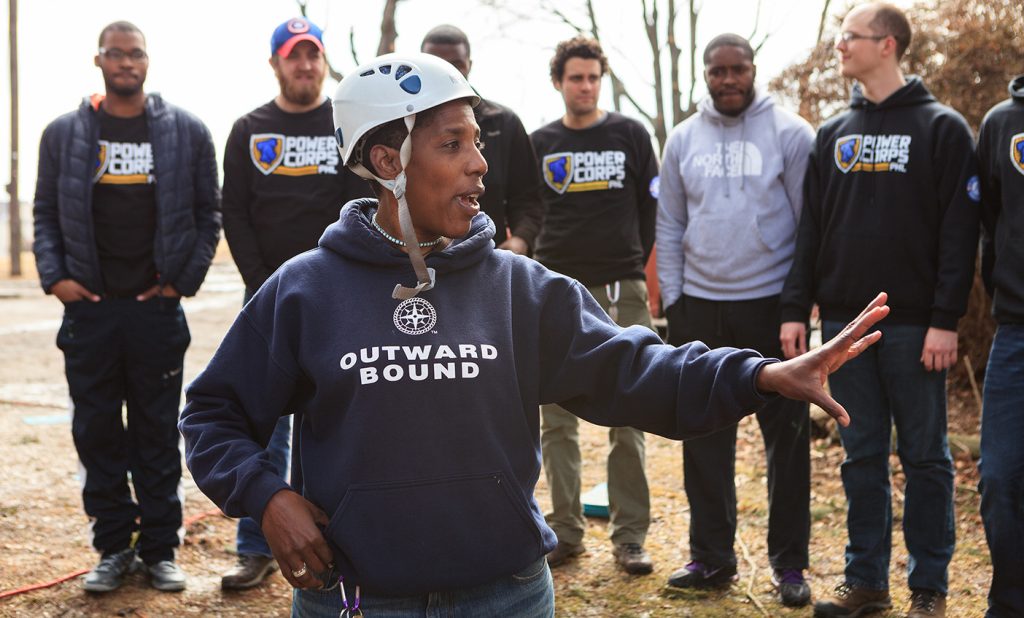 She credits those who came before her for helping her succeed. "I had mentors at Outward Bound to help me through. I didn't have faith in myself at first but they gave me the tools – the hard skills I needed, like how to backpack, how to camp, how to canoe. I had the soft skills, how to talk to someone. They gave me the hard skills and so much more. Thanks to them I made it and am here today. During my first real training with Outward Bound, I remember hiking uphill in a rainstorm in Maine and I realized, 'I can do this.'"
Seeming to embody the spirit of Outward Bound, Raymond's enthusiasm is contagious. "OB is a unique opportunity for someone to experience the outdoors. I hear all the time, 'I'm not a camper,' and I say 'try it.' It's never too late. The greatest thing about Outward Bound is you're doing something you never thought you could do, and you find out who you are."
Raymond is steadfast in maintaining contact with students and alumni long after their course is over. "I like to keep in touch. I reach out and they get it, they say, 'wow, you do care.'"
What keeps her going in Outward Bound after 20-some years?  "The kids! Seeing the kids come back from expedition saying, 'wow! I never thought I could do this!'  Seeing them in middle school, high school, college, I'm still in touch. As instructors we talk about planting seeds, but if you stick around long enough, you see the growth."