Message from Executive Director
Justice, Equity, Diversity and Inclusion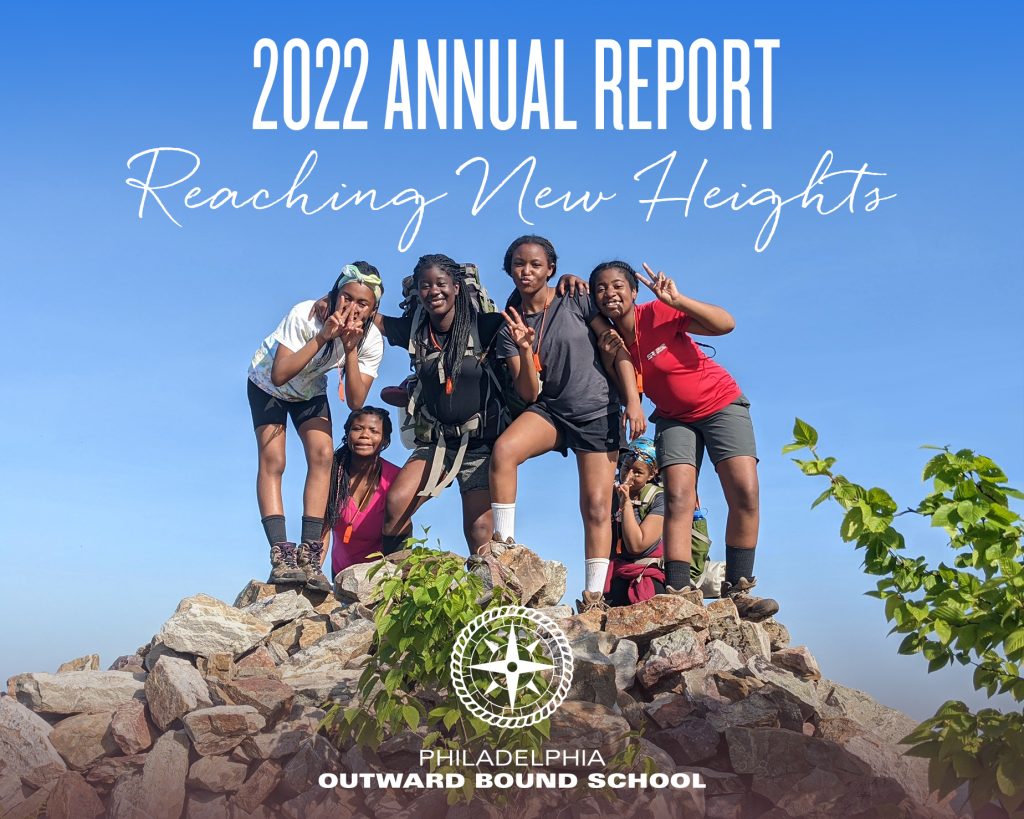 A Message From Our Executive Director
Dear Friends,
Thank you for reading this report! 2022 was a banner year for the Philadelphia Outward Bound School. While our partners and our staff continued to experience social and emotional stressors related to ongoing effects of the pandemic, we doubled down on our values of compassion, integrity, excellence, inclusion and diversity and our commitment to serving our students – over 8,500 last year, a new record for POBS.
The year was full of high points as you'll read throughout these pages. We celebrated our 30th Anniversary with a Gala Dinner on September 30th and Discovery Fest the following day, where over 500 youth and adults participated in canoeing, rock climbing and zip lining at The Discovery Center, as well as other fun activities provided by Audubon Mid-Atlantic, with whom we share the site, and community partners.
We welcomed new staff members – Mary Okeke as Institutional Giving Manager and Jennel Johnson as Director of Finance and Administration – and continued to invest in salaried roles for more Program Coordinators in an effort to provide sustainable wages that will attract and retain the most qualified staff and help us meet an organizational goal to hire more POBS alumni to deliver our programs.
I am so proud of all that our staff, board of trustees, and students accomplished this year. And I'm not the only one – the Association of Experiential Education (AEE) recognized the quality of our work by renewing our accreditation for six more years. POBS remains the only Outward Bound School in the US to earn this seal of approval.
Thank you for believing in the importance of Outward Bound programming for youth in Philadelphia and thank you for supporting the Philadelphia Outward Bound School!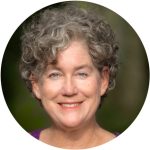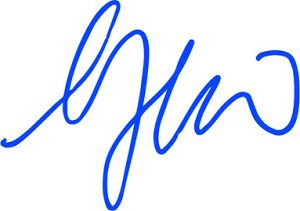 Meg Wise
EXECUTIVE DIRECTOR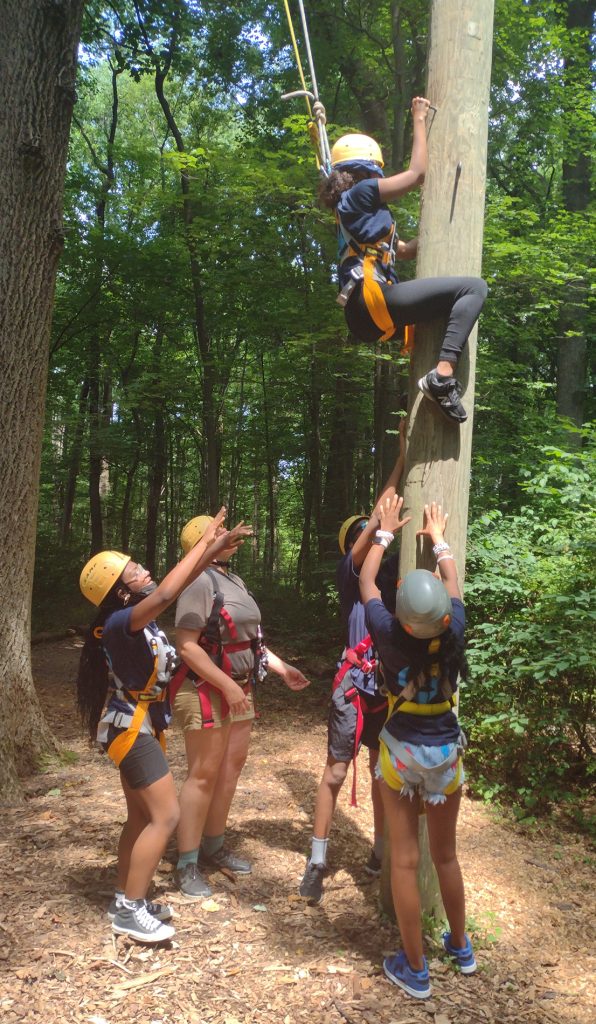 BY THE NUMBERS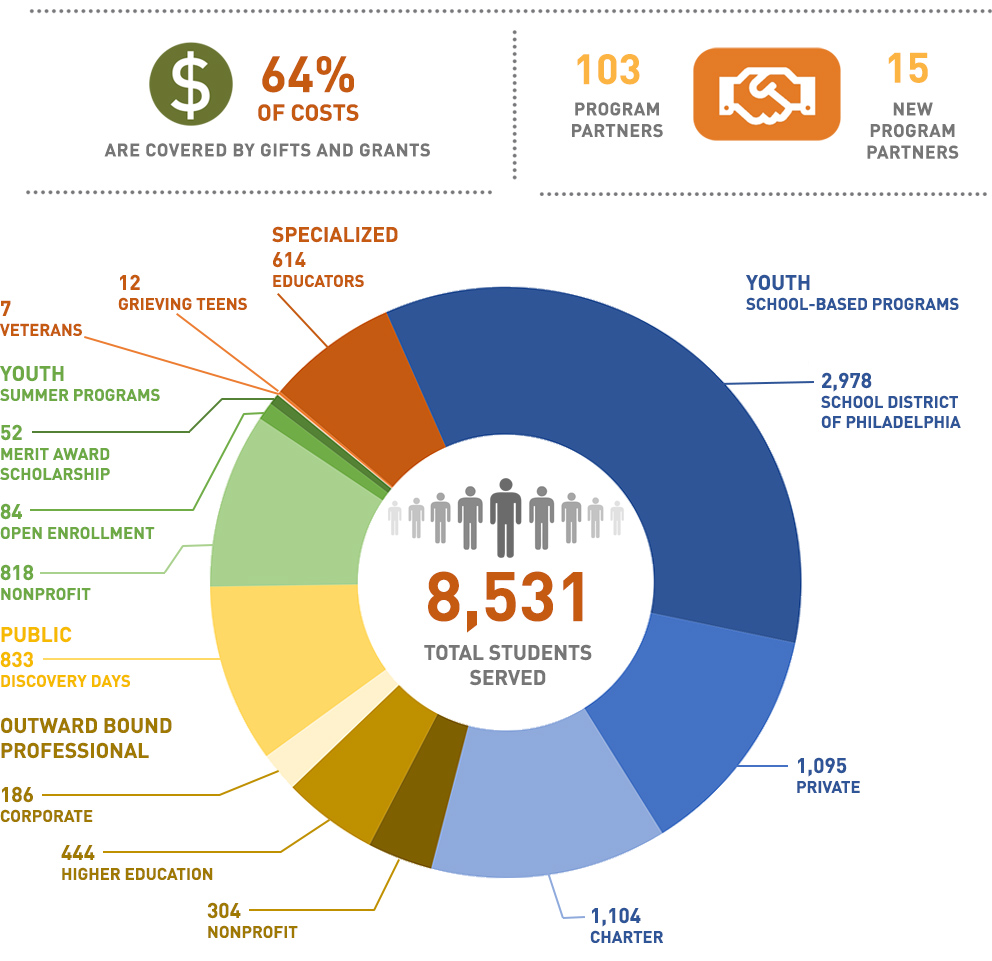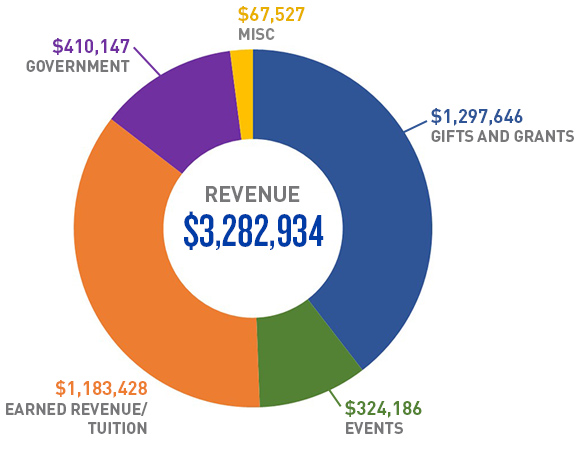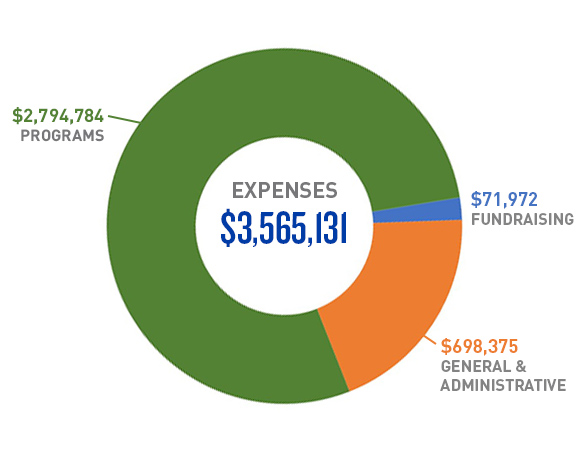 Funds released from time restriction cover the shortfall in revenue.
Audited statement not available at time of publication. Email [email protected] for a copy of our 2022 audit.
2022 marked the 30th anniversary of the Philadelphia Outward Bound School.
To commemorate the occasion, we hosted the 30th Anniversary Trailblazer Gala honoring our founders Nancy Goldenberg, Tim Greenwood, and Michael Nutter, which raised $324,000 to support POBS programs.
The celebration continued with our first annual Discovery Fest in which over 500 attendees from all over the city experienced canoeing, rock climbing, and ziplining at The Discovery Center.
We also took a look back at our 30-year history and told our origin story through a new video featuring interviews with our founders.
Justice, Equity, Diversity and Inclusion
In 2022 our Justice, Equity, Diversity and Inclusion (JEDI) Task Force - made up of POBS staff and board members - published our Racial Justice Statement and Action Plan.
We commit to continuously examining and improving our work in order to create an equitable and inclusive environment for staff and students that reflects our community's demographics and empowers and uplifts all students regardless of their experience with the outdoors.
Specifically, we want to:
Create a culture of belonging for everyone in the POBS community
Establish and sustain authentic community connections
Create onboarding pathways to hire more local students and alumni
Review and Improve Teaching Materials and Practices
Create an organizational infrastructure to support JEDI work
POBS in the News
2022 saw a boost in media exposure for POBS, with over 30 story placements in print, television, and online. See POBS in the News to browse the stories.
In 2022, POBS ramped up Alumni engagement efforts to allow our program participants to rekindle the Outward Bound spark, foster community and connection, and share stories of their Outward Bound experience. We also wanted to learn from them - how would they like to continue to engage with us? How can we deepen our impact on students and communities?
To explore these questions, POBS hosted a series of Alumni events over the course of the year, all at no charge to participants, including an Alumni Picnic and Kickball Game, and an Alumni Challenge Course Day. We also formed an alumni Dragon Boat team - the POBS Dragons - and participated in the Independence Dragon Boat Regatta, held every June in Philadelphia on the Schuylkill River. We even won our first heat!
Alumni events have been a great success, with growing enthusiasm and turnout, and 95% of alumni surveyed said they enjoyed the experience and were likely to attend future events.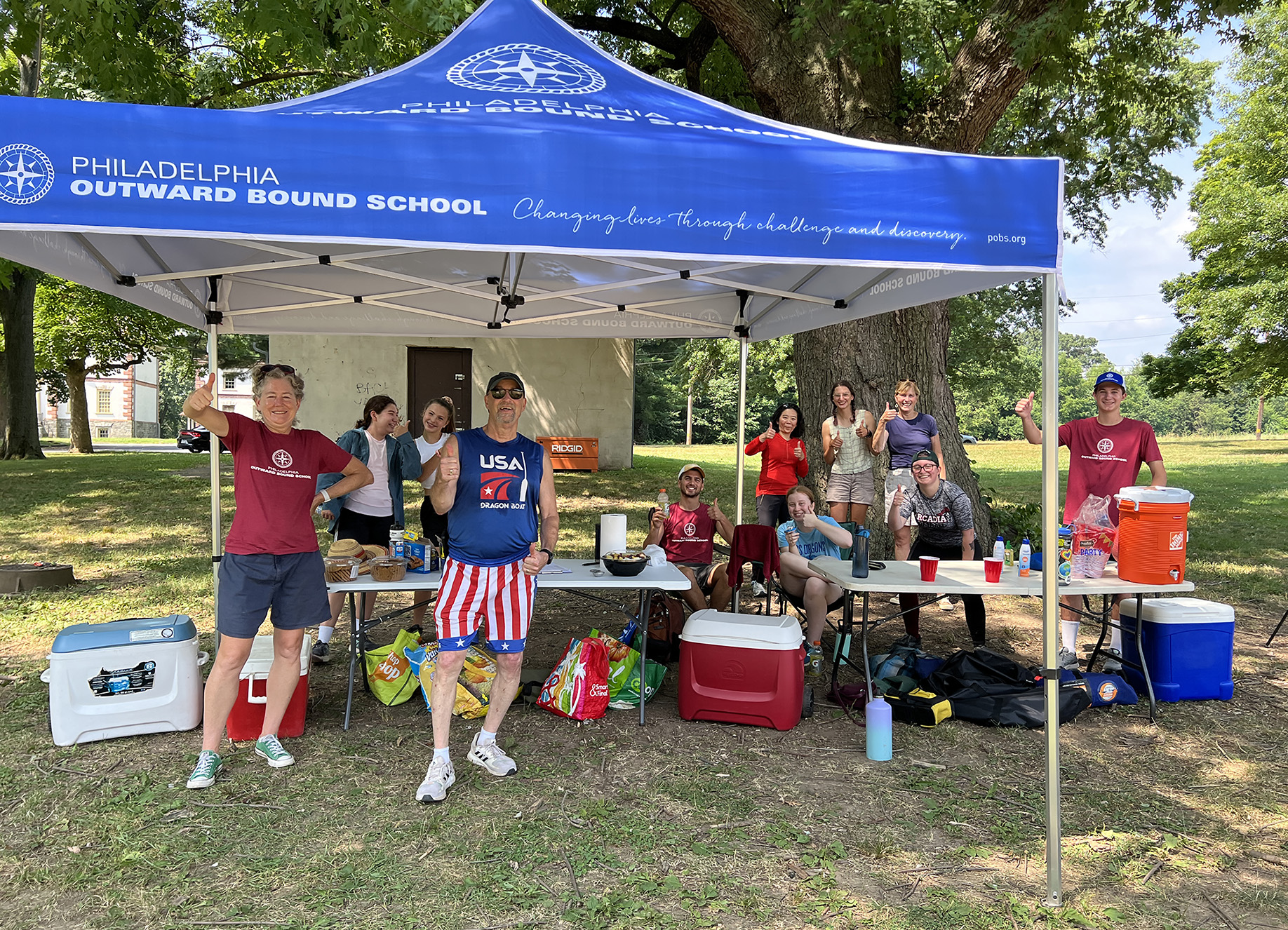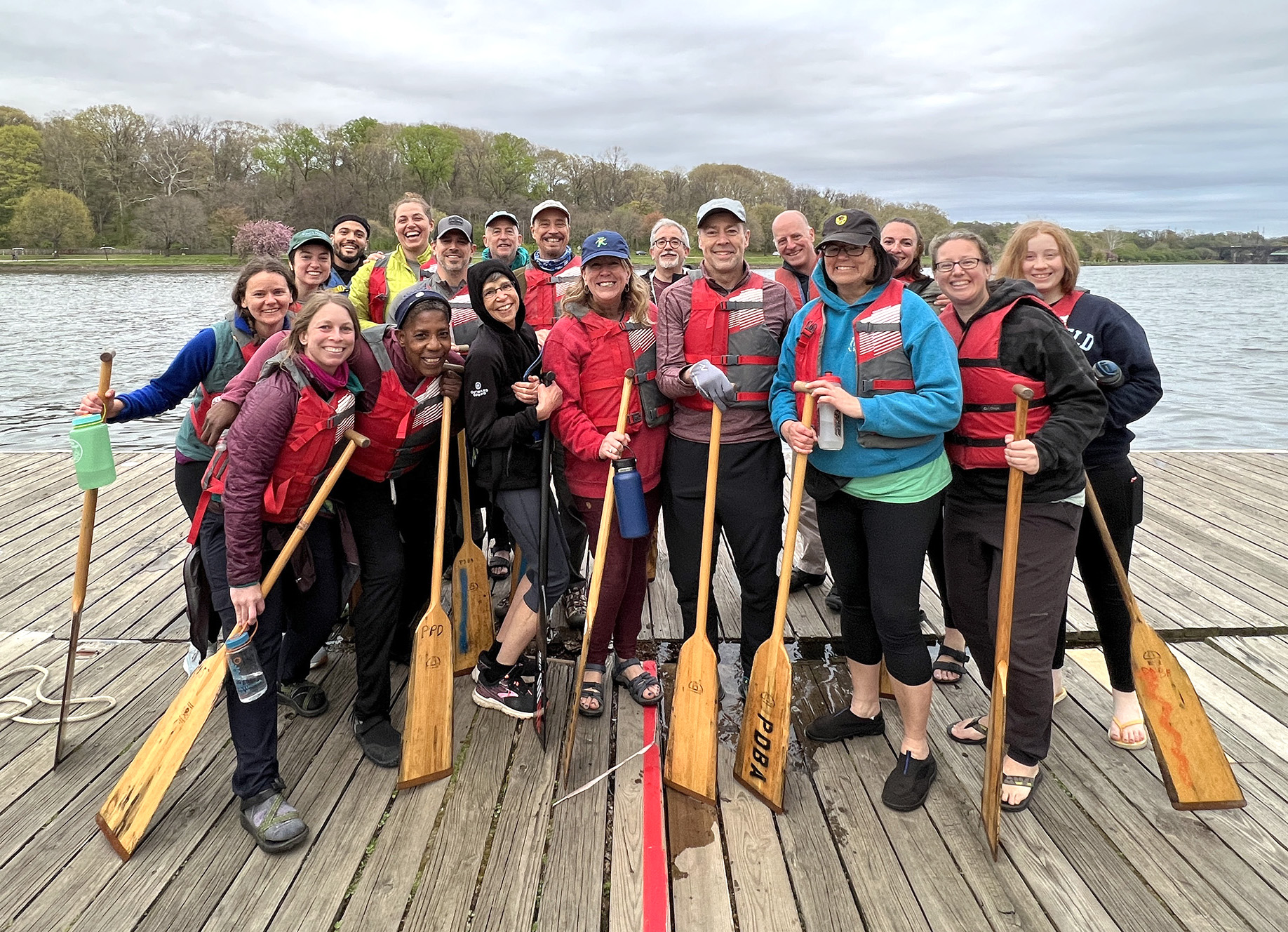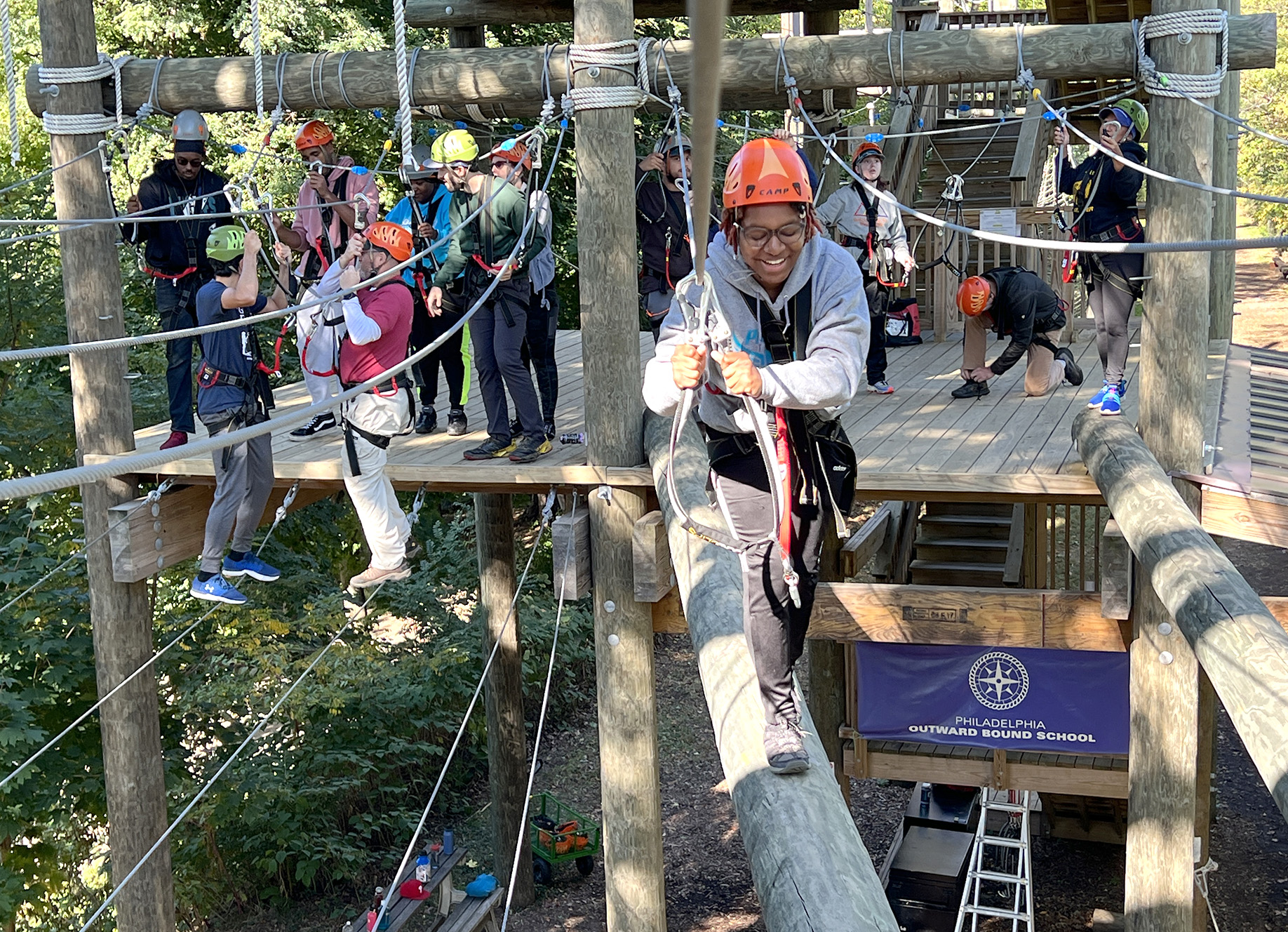 Alumni #1: Danielle Merritt
Since 2022 was our 30th anniversary year, we decided to dig into the archives and see if we could locate some of our first students. The first course rosters were written by hand, most addresses were out of date, and email addresses didn't exist yet. However, with some sleuthing we were able to locate a student from our very first expedition, an eighth-grader from Dimner Beeber middle school named Danielle Merritt. 
When we caught up with Danielle, we were surprised and thrilled to find that not only had she become an educator, she had even taken her students on expedition with us in the early 2000s!  She was now an assistant principal at Samuel Pennypacker school. This year, her Philadelphia Outward Bound experience came full circle as she joined our board of trustees.
Alumni #74,999: Taj Murdock
To bookend Danielle's story, we talked to Taj Murdock, one of our most recent alums, who is the CEO of The Empowerment Achievement Movement, or TEAM Inc., a community-based nonprofit he created to serve as a platform for young men to find themselves. TEAM Inc.'s mentoring program, Men of Courage, offers "empowerment through exposure" to young men age 12 to 18.
Taj and his young Men of Courage participated in several day programs with us last year, and then in August Taj joined our Educators Expedition, a yearly course offered via scholarship to Philadelphia area educators and youth-serving administrators. The expedition had a profound effect on Taj - he said he felt like he was "being a man of courage to be able to develop men of courage." He is scheduled to bring his young men on course this summer.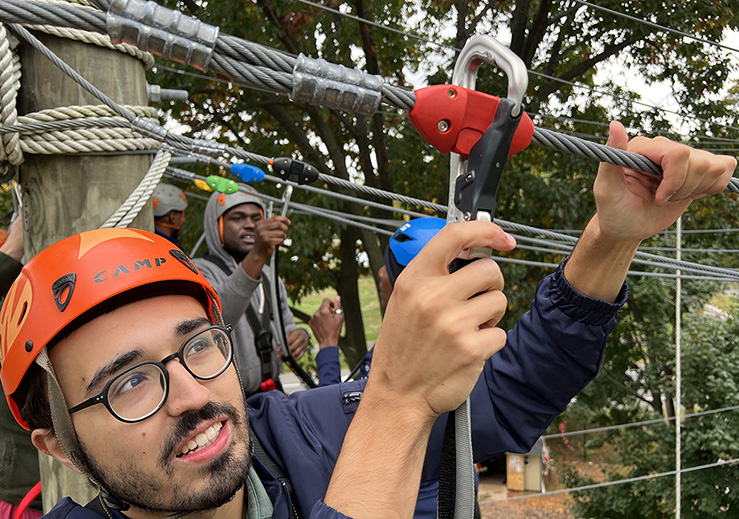 In 2022, POBS implemented a new "smart" belay system on the James McLane Family Challenge Course at the Discovery Center. This system increases participant safety on course, reduces the "learning curve" and expands the age range for course use to include middle school students and community groups.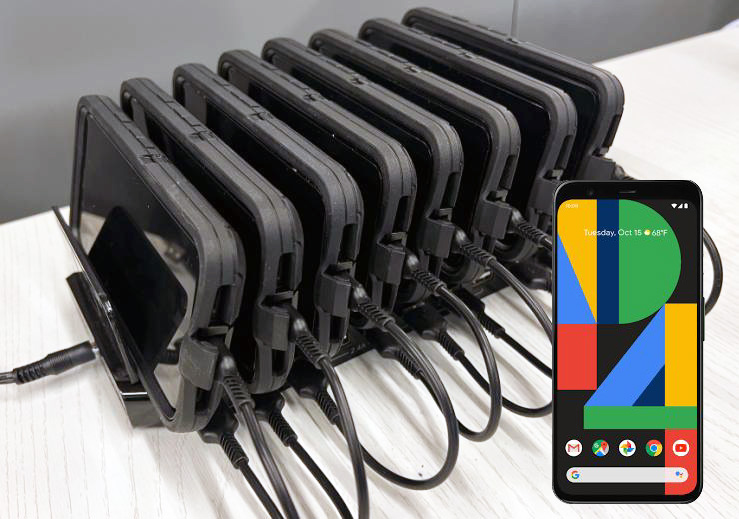 In 2022, POBS purchased several refurbished Google Pixel phones to act as course cameras. Students are not allowed to bring their phones on expedition, but cameras are encouraged. We turned off the internet and removed the apps from the Pixels so students were not distracted. The results were posted on our website for students to download and enjoy.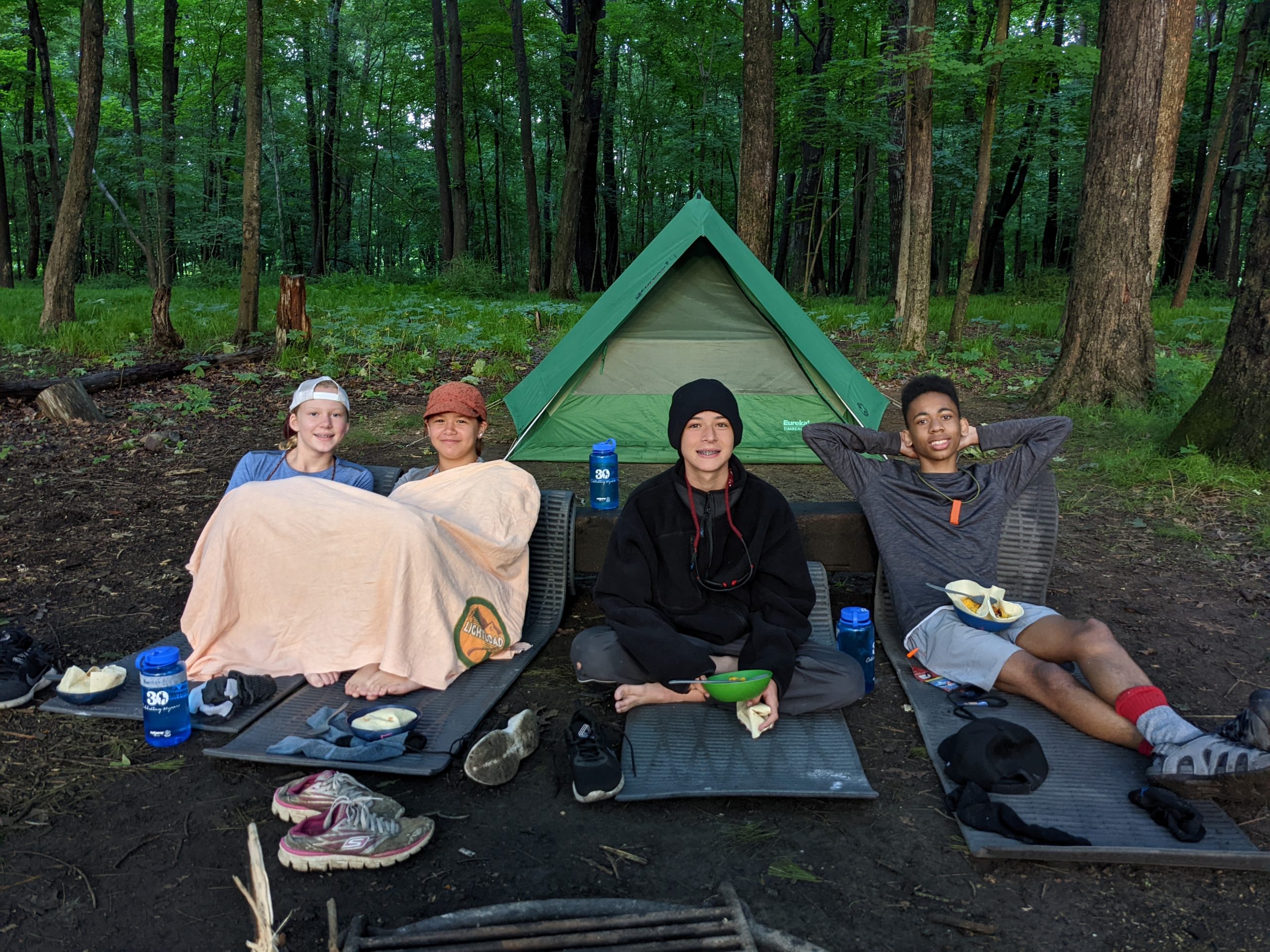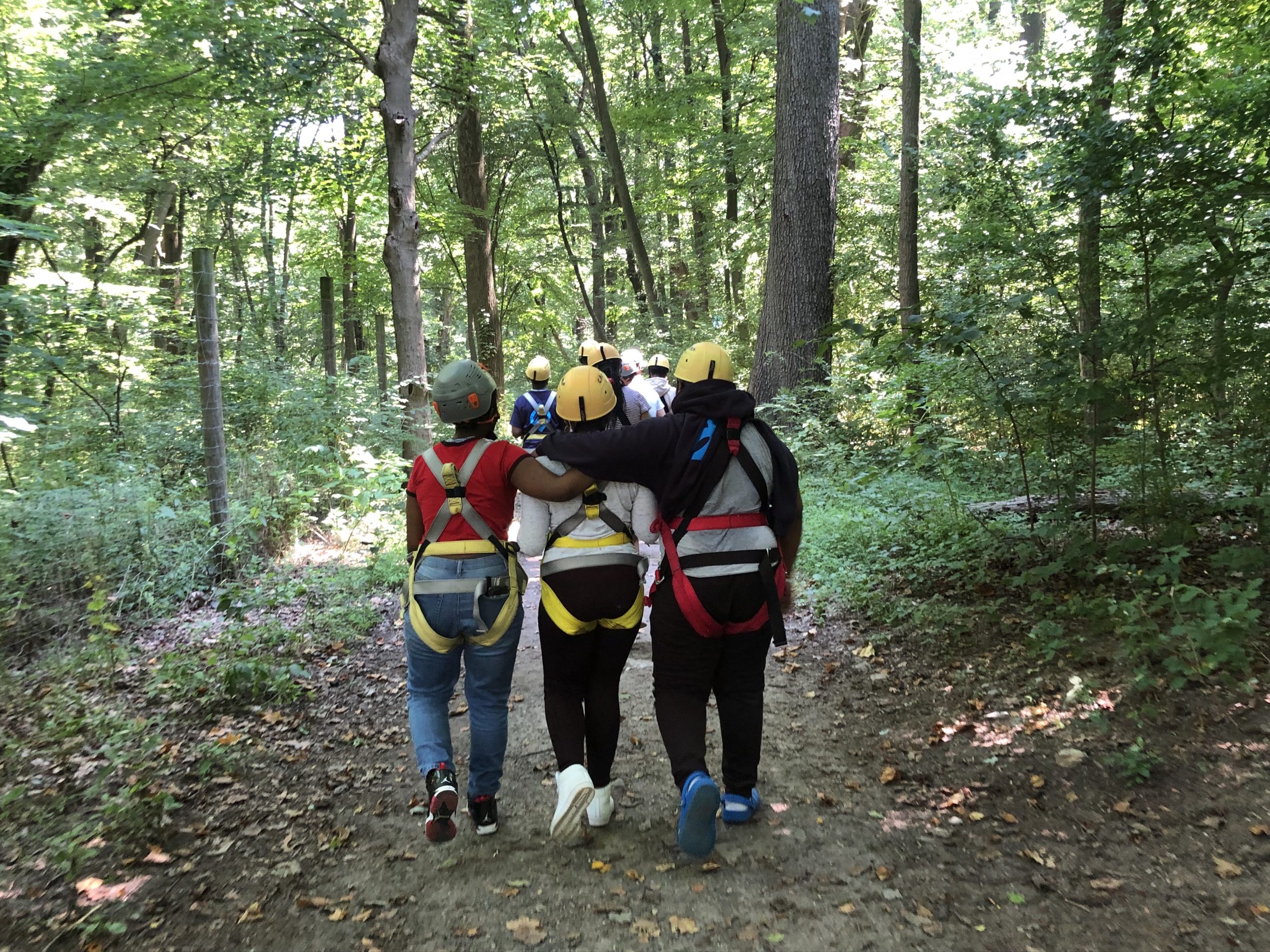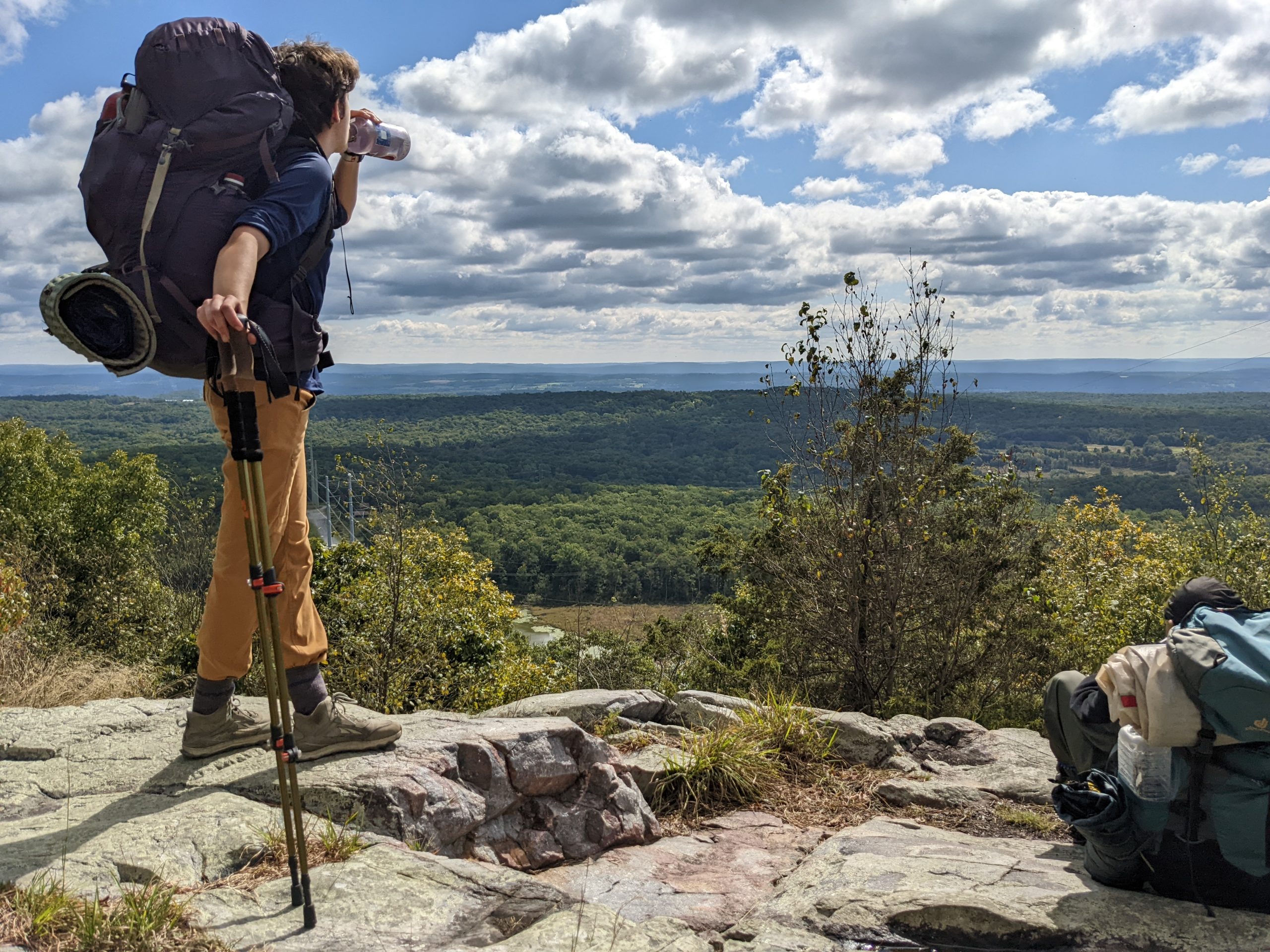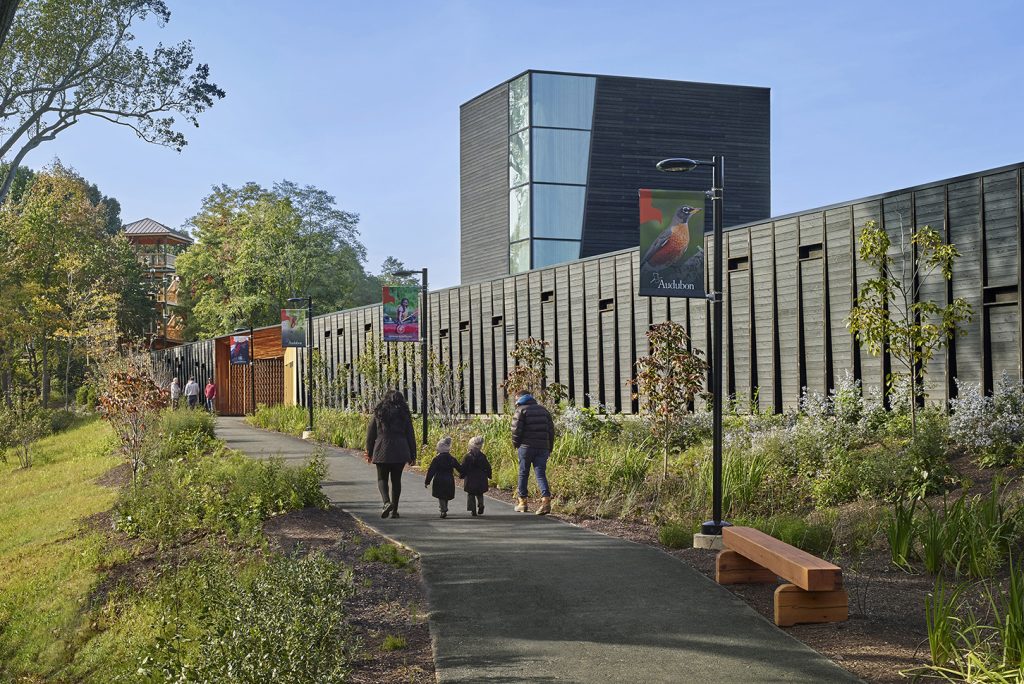 In 2022, POBS held 15 Community Event Days, or "Discovery Days," at The Discovery Center.  (More were scheduled, but the weather & COVID led to a few cancellations). Discovery Days give POBS the opportunity to introduce our nearest neighbors and surrounding communities to Outward Bound programming, and to make The Discovery Center and its amenities accessible and welcoming. 
Events held on select Saturdays each month include canoeing on the Strawberry Mansion Reservoir in the summer, ziplining on the James McLane Family Challenge Course in the fall, and rock climbing in the Alta and Peter Hamilton Climbing Tower during the winter. Many of these events have been held in conjunction with programming by Audubon Mid-Atlantic, so participants could, for example, attend a bird walk in the morning and canoe or zipline in the afternoon.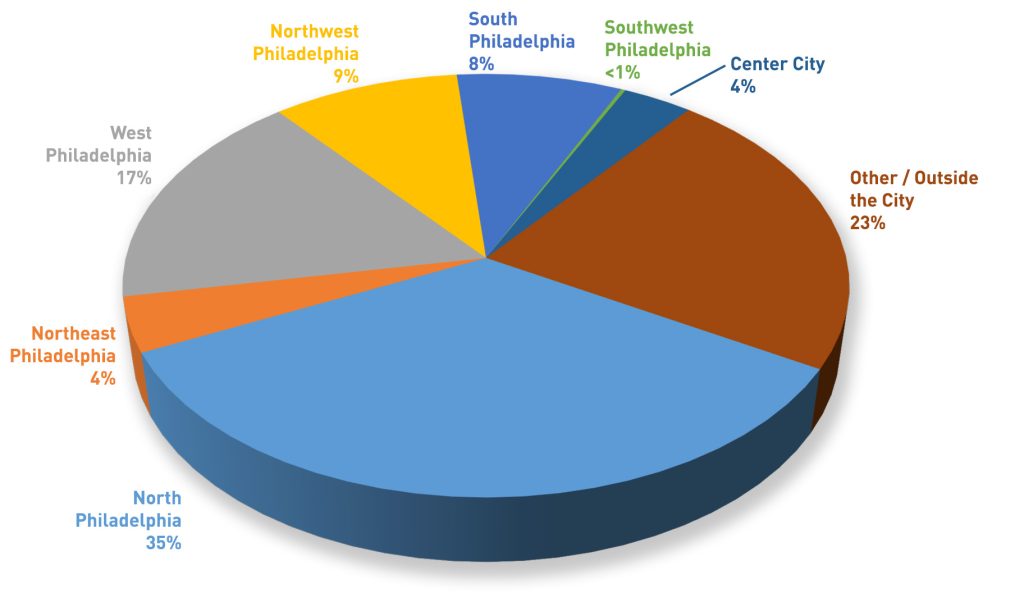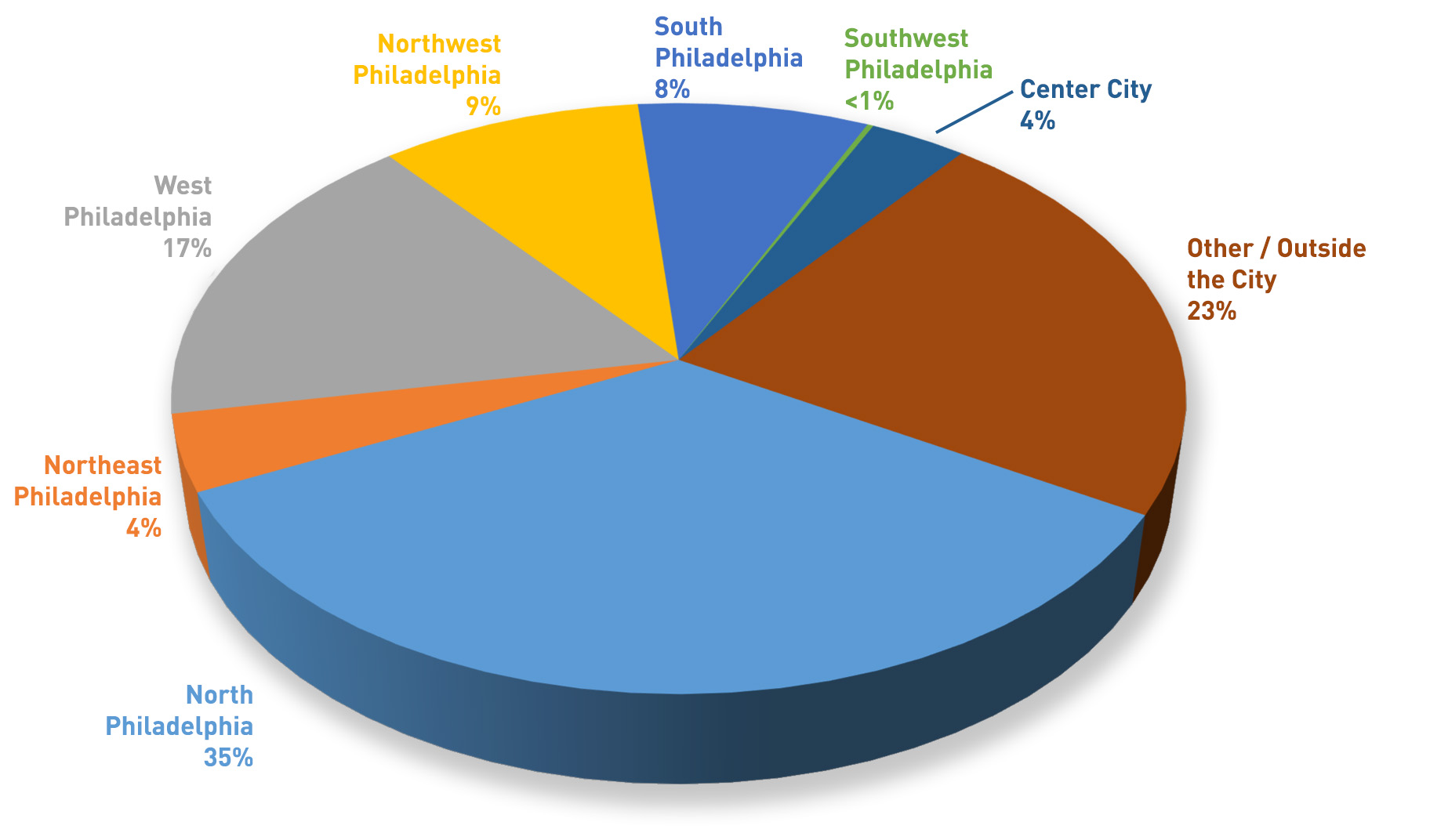 2022 Discovery Days Included:
• 5 rock climbing days
• 5 zip line days
• 3 canoe days
• 1 CPR Class
and one Discovery Fest.
As a result of our community engagement efforts, our neighbors in North Philadelphia comprised the largest percentage of Discovery Day visitors.
Other programs at The Discovery Center in 2022 included:
The HOOT Program, in which POBS partnered with Temple University for their Healing Ourselves Outdoors Together program. The program was created to make recreation more accessible for urban families living near Temple University's three campuses: North Philadelphia, Harrisburg, and Ambler. In 2022, POBS worked with HOOT participants on "Drop into Nature Days" at The Discovery Center and "The Big Adventure Day" at Temple University Ambler.
The Environmental & Outdoor Leadership Program: POBS and Audubon Mid-Atlantic collaborated on this 10 week internship program to expose Philadelphia high school students to nature and the outdoor industry through efforts in local conservation, watershed protection, leadership development, and career exploration. There were 4 interns for the inaugural Fall 2022 cohort. Weekly lessons in environmental topics including a career panel & shadowing opportunities.  For their final project, the interns installed bird houses and gave away Insect Hotels to visitors at The Discovery Center.
A. Randolph Career Academy *
Allan Myers
Alliance for Watershed Education
Arcadia University
Audubon Mid-Atlantic
Belmont Charter H.S.
Bethune E.S.+
Better Tomorrows
Bicycle Coalition of Greater Philadelphia#
Blaine E.S. +
Boys and Girls Club of Philadelphia #
Boys Latin of Philadelphia H.S.
C.B. Community School
The Cliffs #
Community Academy of Philadelphia Charter School
The Crefeld School
Cristo Rey Philadelphia H.S.
Crozer Chester Medical
Currently Trending #
DeSales University
Dick E.S. +
Drexel University
Duckrey E.S. +
Ed Snider Youth Hickey Foundation
Edison H.S. *
FamCom #
FHI 360
Frankford H.S. *
Freire Charter School
Friends Central
George Washington Carver H.S. of Engineering and Science
George Washington H.S. *
Gideon E.S. +
Good Grief
Hand2Paw #
Heights Philadelphia
Independence Charter School
Inspiring Minds of Greater Philadelphia #
Kenderton E.S. +
Kensington CAPA H.S. *
Kensington H.S. *
Kensington HSA H.S. *
Lankenau Environmental Science Magnet High School
Laurel Hill Cemetery
Leadership Philadelphia
The LINC H.S. *
Lingelbach E.S.
Maritime Charter School
Martin Luther King H.S. *
Masterman H.S.
Mastery Charter Schools
Mitchell E.S.
NeuroFlow
New Options More Opportunities #
Northeast H.S. *
Oak Street Health
One Day at a Time (ODAAT) #
Overbrook Education Center
Overbrook H.S. *
Patina Health, Inc.
Penn Treaty H.S. *
PENNCAP at UPENN
Penn Presbyterian Medical Center
Peter's Place
Philadelphia Eagles
Police Athletic League–North Penn #
Pollock School
PowerCorps PHL
Project HOME #
Roberto Clemente M.S. +
Roxborough H.S. *
Russell Byers Charter School
Sankofa Freedom Academy Charter School
Sayre H.S. *
School of the Future *
SDP Office of Climate and Culture
SDP Office of Student Support Services
South Philadelphia H.S. *
Springside Chestnut Hill
SquashSmarts
St. Hubert Catholic High School
St. James School
St. Mary's Interparochial School
Strawberry Mansion H.S. *
Summer Search Philadelphia
Swenson Arts and Technical High School *
TEAM Inc. #
Temple University
Thomas Jefferson University
TMNA Services
Tower Hill School
The U School *
The University of Pennsylvania
Uplift Center for Grieving Children
Vaux Big Picture H.S. *
W.B. Saul H.S.
W.D. Kelley E.S. +
West Chester Area School District
The Wharton School
Williamson College of the Trades
Wissahickon Charter School/Awbury
Wissahickon Charter School/Fernhill
YEAH Philly #
_____________________________
* 9th Grade Academy
+ Learning Network 11
# Community Organization
Multi-Year Grants
The Philadelphia Outward Bound School's work in 2022 was supported by multi-year grants, received in prior years, from the following institutions:
Arthur Blank Family Foundation
Connelly Foundation
The Hamilton Family Charitable Trust
H. Chase Lenfest Foundation
The Christian R. and Mary F. Lindback Foundation
The McLean Contributionship
William Penn Foundation
$50,000
The Barrist Family Foundation
The Berstein Family Foundation
John and Otto Haas Charitable Trust, recommended by John and Janet Haas
Michael and Sue Stanley
John Templeton Foundation
$25,000-$49,999
BLBB Charitable
Nancy Goldenberg
The Patricia Kind Family Foundation
The Lily Foundation
Virginia Cretella Mars Foundation
McCausland Foundation
The Fund for Children of the Philadelphia Foundation
The Pincus Family Foundation
Vanguard
Vert Charitable Trust
$10,000-$24,999
Arbor ST Foundation of the Philadelphia Foundation
Blank Rome LLP
Chubb Group of Insurance Companies
Jon and Emily Conant
Paulette Greenwell and Scott Measley
Tim and Sandy Greenwood
William King Charitable Foundation
John Lazarich Foundation
The Martin Guitar Foundation
James and Meg McLane
Penn American Real Estate Company
SEI Investments Company
Bredt Stanley
The DeWitt and Caroline Van Evera Foundation
Mitchell Young and Anna Forrester
$5,000-$9,999
Akin Gump Strauss Hauer and Feld LLP
Jim and Alyse Bodine
Brandywine Realty Trust
Philip Charron and Lesly Attarian
Peter Haas
Robert and Connie Haas
Robert M. Haas Associates
Mark and Michelle Haslam
The Hassel Foundation
Terry Henry
Jill and Simon Herriott
Liz and Tim Huston
Patricia and George Lucas
Stephen Lyne
Doff Meyer and Robin Brecker
Jeff and Krista Mitzak
Phyllis and Donald Mobley
Allison Nguyen
PNC Bank
Queen's Jubilee Education Fund of The Philadelphia Foundation
Radius Global Solutions
Carrie Simons and Marc Lindsay
The Society of St. George, Philadelphia
Kimberly Togman and Geoff Aguirre
UBS
$2,500-$4,999
1830 Family Foundation
Ann Baruch
Jay Bryan and Nancy Winkler
Joan Cheever and Dennis Quinn
Dr. Crystal Edwards
Fraser Greenwood and Allison Hainline
Robert and Susie Harries
Elizabeth Harris
Eric Hirschberg and Lorraine Stanhope Hirschberg
Lauren and Mark Kahn
Scott and Christine McAllister
Dr. Leroy and Gina Golson Nunery
PECO Energy
William Powell
Donald and Hether Smith
Jack and Alicia Stoddard
Charles Thomson and Nancy Leon
Timoney Knox
Michael Van Pelt
Geoffrey and Ginger Worden
$1,000-$2,499
Sabrina Abbott and Josh Olivo
Anonymous
Dennis Bianchi and Jan Schaeffer
Suzanne Biemiller and James R. MacRae
William* and Laura Buck
Mary Carroll
Steven Chintaman
Keenan Corrigan
Michael Cramer
Kelly Davis and Ned Diver
DIGSAU
Morris Disston
Dolfinger-McMahon Foundation
Cory Dulaney
Tom and Emery Greenwood
Elinor Haider and Matthew Lee
Stephen Hassenfelt
Peter and Louise Havens
Yardly and Scott Jenkins
Peter Kenney and Dorothy Novick
Susan Leidy
Connie Lotz
Joseph Manko
Wendy and Wade McDevitt
Peter Meredith and Ellen Berkov
Ludlow Miller
Kimberly and Gregory Miraglia
NewCourtland
Matt Norcini
Meg, Alec, Matt, Beth, and Jim Ounsworth
Elizabeth Porth
Tom Post
Bruce and Gail Redpath
Jeffrey and Pepper Rexford
Claire Robertson-Kraft
Gerald and Betsy Rorer
Harry Roth and Lisa Heller
Morgan Salmon and Sarah Greenwood Salmon
Chelsea Schmidt and Greg Groggel
Heidi Siegel and Frank Van Lint
Andrew Stober
Aimee Stokes
Alexandra Storm
Sustainable Governance Partners
Wawa Foundation
Susie and Peter Wilmerding
Bruce Wilson
Meg Wise
$500-$999
Cynthia and John Affleck
Christopher Baldwin
Laurada Byers and Rodney Day
Craig Coleman
Courtney Disston
JB and Winnie Doherty
Kate FitzGerald
Howard Harrison
Alicia Harvey
Hans and Janet Hermans
Frances Hoover
Ann Hopkins
Terry and Anne Marie Horner
Reed Larson
Kathryn Lawton
James and Therese Mauch
Susan McIlvaine
Leslie Anne Miller and Richard Worley
Jay Miller
Jennifer and Andrew Newcomb
Katie Newsom
Sidney Palmer
Clifford Pearlman
Richard and Viki Plowman
Homer Robinson and Lisa Zahren
Howard Rosenbloom
Tami Sherman and Tom Rodriguez
Catherine Smith
Staiman Recycling Corp
Ernest Tracy
Jean and James Trujillo
Rachel Wootten and Ron Nichols
Leslie Yamada
Mark Zahour
$250-$499
Val Arkoosh and Jeff Harbison
J. Gregory Barlock
Virginia Barnhart
Michael Basilone
Raymond Battaglia
Jill Bellak
Amanda Benner and William Moriarty
Ronald Bressler
Christopher Bryan
Frank Burger
Jane Combrinck-Graham and Dick Winston
Wendy Epstein
Elizabeth Gemmill
Dr. Janice Gordon
Grace Hannigan
Peter and Suzette Hearn
Tudy and Hy Kahn
Gordon and Janice Keen
James Kelly
Deborah Maine
Charles Marion
Mary Kate Meder
Patricia Merritt
Stacy Mosley
William Newbold
Patti Patrizi
Brian Radic
Eric Rodriguez
John and Theresa Rollins
Ed Ruggero
Nathan Schlingmann
Paul Schwartz
Mansi Shah
Anne Thatcher
Clayton Thomas
Harry Tyler
Margo Warwick
Andrew Wheeler
Kellan White
Carl Witonsky
$100-$249
Lili Abir Regen
Marilyn and Jack Allahand
Ami Assayag
Rebecca Baranowski
Sharon Barr and Alexander Hoskins
Jean Bennett
Elizabeth Bodine
Joseph and Jill Bonn
Richard and Mary-Helen Boothby
Ingrid Boucher
Mark Brack
David Crawford and Elaine Simon
Mark Damico
John D'Anna
Christina Diaz and Caleb Meyer
Joanne Feinberg
Rob and Susan Fleming
John Frisbee and Jill Garland
Allison L Frisbee
Alison Fritz
Susan Garland
Marcy Goniprow
The Hammel Family
Katherine Hartmann
Elizabeth Hartmann
Allison Heishman
Christine and TJ Henwood-Costa
Andy Hoover
Ann Hunter
Stephen Jones
Carol Kalin
Nancy L. Kelly
Karen and Mike Kleinman
Brian Knowles
Lois Pearl Kraft
Blake Krapf
Christine Ladnier
Don and Susan Larson
Ian Li
Dana Lotkowski
William Masapollo and Deirdre Wafalosky
Lester Mayer
Brian McGinley
Jennifer McHugh
Arthur Menko
James Mordy
Mark and Elise Norcini
Julia and John O'Brien
Linda Olivola
John Onderdonk
Charles Ormsby
James Oser
Laura Plunkett
Monshell Reyes
Nora Reynolds
Susan and Clifford Rogers
Sue and Martin Rubel
Adair Ruff
Margaret Sayvetz
Tony and Susan Scirica
Sandra Simons
Derrick Southard
Mary Ann Stover
Stephanie Sullivan
Jan Tedder
David Tilley
Cindy Towers
Robin Trawick
Diana Truxell
Martin Tuzman
Marion Van Pelt
Casey Von Seldenick
Kim West
Peter Yeomans
Under $100
Andrew Adams
Georgine Althouse
Anonymous
Debbie Keen Bauernschmidt and Bill Bauernschmidt
Rodd Bender
Perry Benson
Mary Black
Charlotte Cano
Rebecca Cawley
Henry Conry
Harvey D. Cotton
Rebecca Craven
Ryan Crocetto
John Deasy
James DiGuiseppe
Kathleen Dulaney
Anna Dunbar-Hester and Peter Fried
Margaret Emerson
James S. Farnum
Mercy Farnum
Adam Fernandez
V.G. Goodman
Gary Graham
Ethan Gutmann-Goldstein
Julie Hackett
Amin Haiderali
Martin A. Heckscher
Ariel Henderson
Mary Beth and Brian Hurley
Brian Jacobs
Ronald Jones
Christine Kelly
Matthew Lakofsky
Cris Landa
Elaine Lander
Elizabeth K Lemire
Michael Lewis
Benjamin Link
Michael Lombardi
Grant Long
Ethan Lyne
Ani Maitin and Will Mirsky
Janet Milkman
Tully Moyer
Paul Organ
Eric Panicucci
Lynn Pokrifka
Scott Reynolds
Chris Richter
Darlene Rimer
Ronald and Marcia Robins
Kathleen Ruane-Przyhocki
Nishat Ruiter
Levi Schenk
Patrick Sherlock
Antoinette Sirois
Hanna Smith-Benjamin
Anne Stewart
Sarah Stewart
Sandra Sudofsky
Valerie Thim
Jacqueline and Andrew Urbine
Elyse Van Pelt
Anne and Neil Walsh
Alexandra Wells
Daniel Williams
Ken Yanoviak
Juyeon Yu
In-Kind Donations
Peter Adlowitz
Arden Theatre Company
John James Audubon Center
The Cliffs at Callowhill
CookNSolo
Disston Search
Philadelphia Eagles
Fitler Club
Philadelphia Flyers
The Mann Center
Philadelphia Distilling
Philadelphia Rock Gyms
The Philadelphia Zoo
Philadelphia Phillies
PWP Video
REI
Shofuso Japanese Cultural Center
Stateside Urbancraft Vodka
Wheel Fun Bike Rentals
Yards Brewing Company
Philadelphia Runner
BOARD OF TRUSTEES
Robert Haas, Jr.
Chair
James Bodine
Vice Chair
Dr. Leroy D. Nunery, II
Vice Chair
Donald Mobley
Treasurer
Carrie Simons
Secretary
Philip Charron
Steven Chintaman
Keenan Corrigan
Omar Crowder
Cory Dulaney
Dr. Crystal Edwards
Kate FitzGerald
Jill Herriott
Mark Kahn
Scott McAllister
Gregory Miraglia
Allison Martin Nguyen
Matt Norcini
Dr. Claire Robertson-Kraft
Kimberly Togman
Michael van Pelt
Kellan White
TRUSTEES EMERITI
Jonathan B. Conant
N. Peter Hamilton
Mark Haslam
James W. McLane
Meg Callaghan McLane
Ludlow Miller
Michael C. Stanley
FOUNDERS
Nancy A. Goldenberg
T.S. "Tim" Greenwood
The Hon. Michael A. Nutter
ADMINISTRATIVE STAFF
Sam Barnhart
Associate Director of Specialty Programs
Aisha Burrell
Associate Director of Admissions and Medical Screening
Shanna Carvell
Staffing Manager
Kristy Crocetto
Associate Director of HR and Culture
Emily Della Fera
Associate Director of School District Partnerships
Kadafi El-Kardah
Associate Director of Community Engagement
John Frisbee
Director of Development
Kim Glodek
Director of Education and Partnerships
Daniel K. Hoffman
Communications Specialist
Jennel Johnson
Director of Finance and Administration
Qiad Jones
Student Services Manager
Kendra Jordan
Logistics Manager
Ethan Lyne
Donor Relations Manager
Katie Nelson
Director of Program and Safety
Mary Okeke
Institutional Giving Manager
Jennifer Raymond
Scholarship and Recruitment Manager
Chris Richter
Director of Marketing Communications
Lauren Stables
Director of Program and Training
Meg Wise
Executive Director
FACULTY INSTRUCTORS
Opal Bednarik
Rob Bonner
Ritam Chakraborty
Mads Chomentowski
Mac Dvorak
Jeff Ladnier
Bridget O'Hara
PROGRAM COORDINATORS
Jeremy Cothran
Expedition
Olive Fine
Expedition
Geo Menses
Center-Based
Jack Organ
Center-Based
Brock Weir
Expedition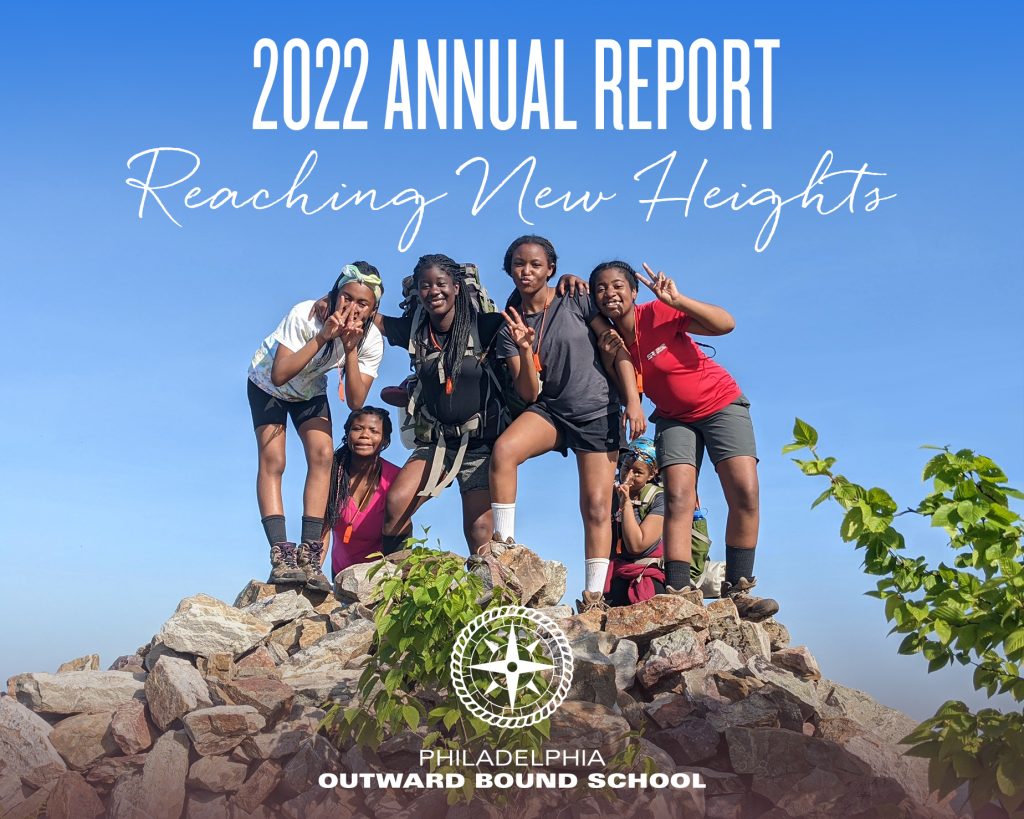 A Message From Our Executive Director
Justice, Equity, Diversity and Inclusion