Fundraiser soars past $200,000 goal to hit a record $300,000
There's no other way to put it: this year's Building Adventure – the high-adrenaline fundraiser for the Philadelphia Outward Bound School in which participants who raise at least $1,750 earn the opportunity to rappel down a skyscraper in Center City – was an unqualified success.
With the participation of 111 rappellers and some 2,000 individual donations, POBS was able to easily exceed the $200,000 goal, and raised in excess of $313,000! This is the strongest performance EVER for this event.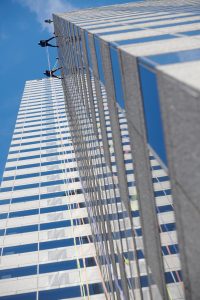 The proceeds from the event, which is held every two years, will be used to fund outdoor education programs for more than 100 public and charter schools and youth-serving community organizations in Philadelphia and across the region.  (See related story: Philly School Teachers Go "Over the Edge" for Their Students.)
Originally scheduled for May of this year, the event was postponed until October due to the pandemic. Despite the schedule change and the general uncertainty of the times, participants dug in, reached out to their networks, and raised much more than expected, leaving POBS staff and board elated by the outpouring of support.
"To see this level of participation and support after all everyone has been through with Covid, we're just thrilled," said POBS Executive Director Meg Wise, who rappelled for the second time in as many years. "This year's experience was especially cathartic!"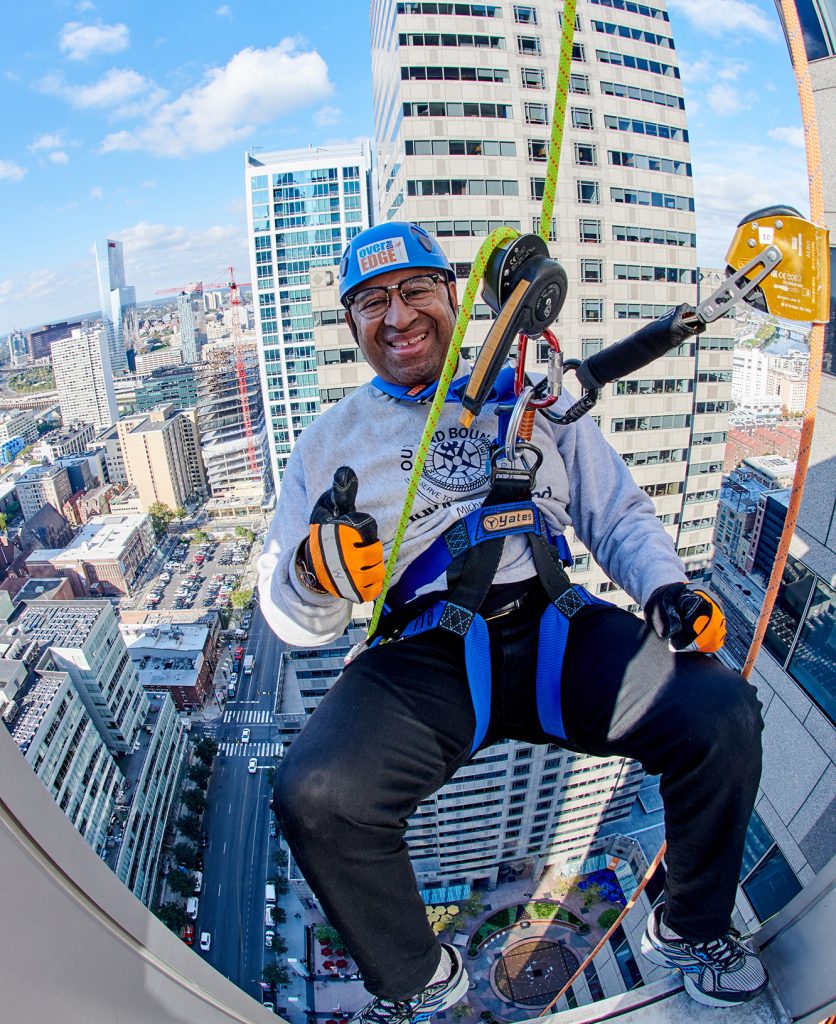 Another participant who has gone "over the edge" a few times before was former Philadelphia Mayor Michael Nutter, one of the co-founders of the Philadelphia Outward Bound School.
When asked if he had any advice for a first-timer, Nutter said "Don't look down. Trust the equipment, and trust the people."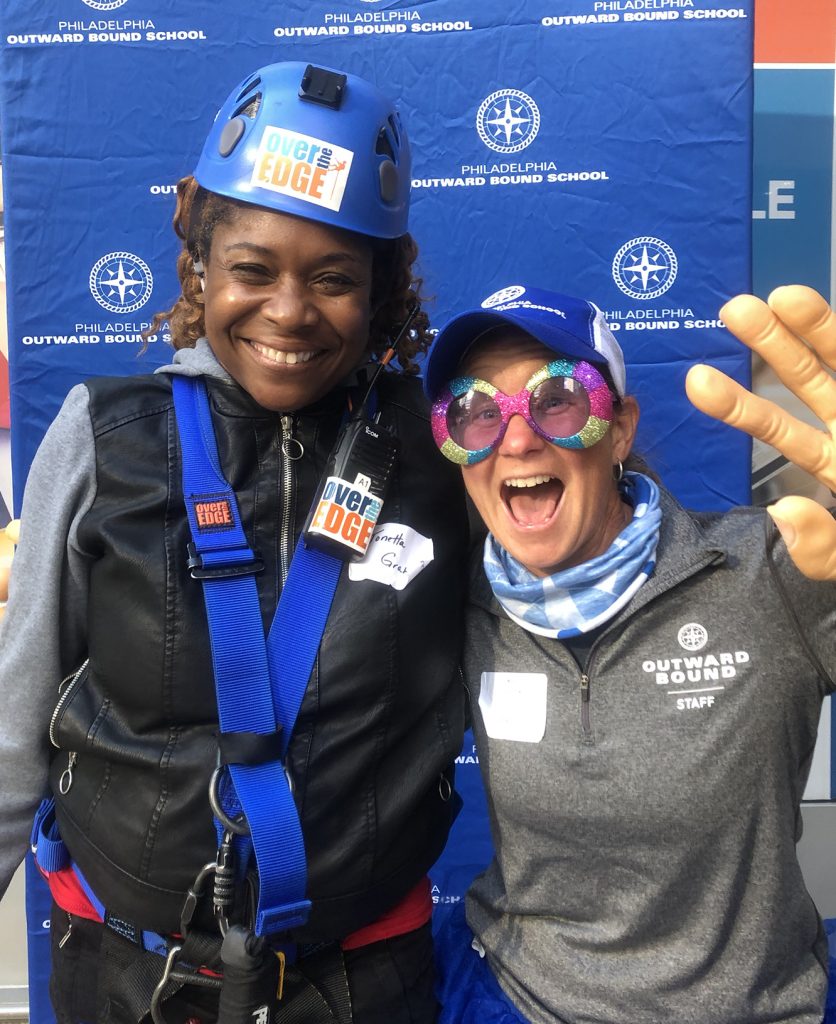 One of those first timers was Tonnetta Graham, founder and Executive Director of the Strawberry Mansion Community Development Corporation, who said the experience was "one of the hardest  things I've ever done. I took on one of my biggest fears." Graham thanked the staff who helped her find her inner strength. "What an amazing experience!" She is pictured here post-rappel with POBS Director of Education and Partnerships Kim Glodek.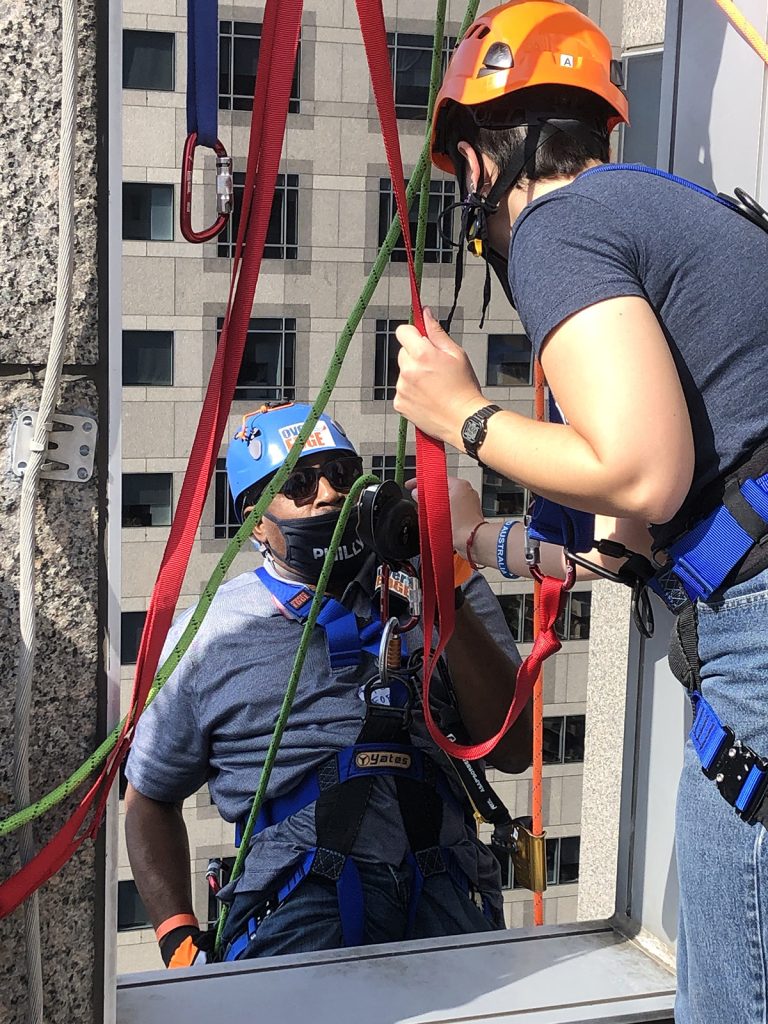 Other notables making the descent down 29 stories included the unofficial "Mayor of Strawberry Mansion" Rick Ford (at left), and Chair of the Philadelphia Outward Bound School Board of Trustees Bob Haas, who revealed his true identity (at right).
In addition to those that rappelled the day of the event, eight more rappellers went over on the day prior to help draw attention to the fundraiser.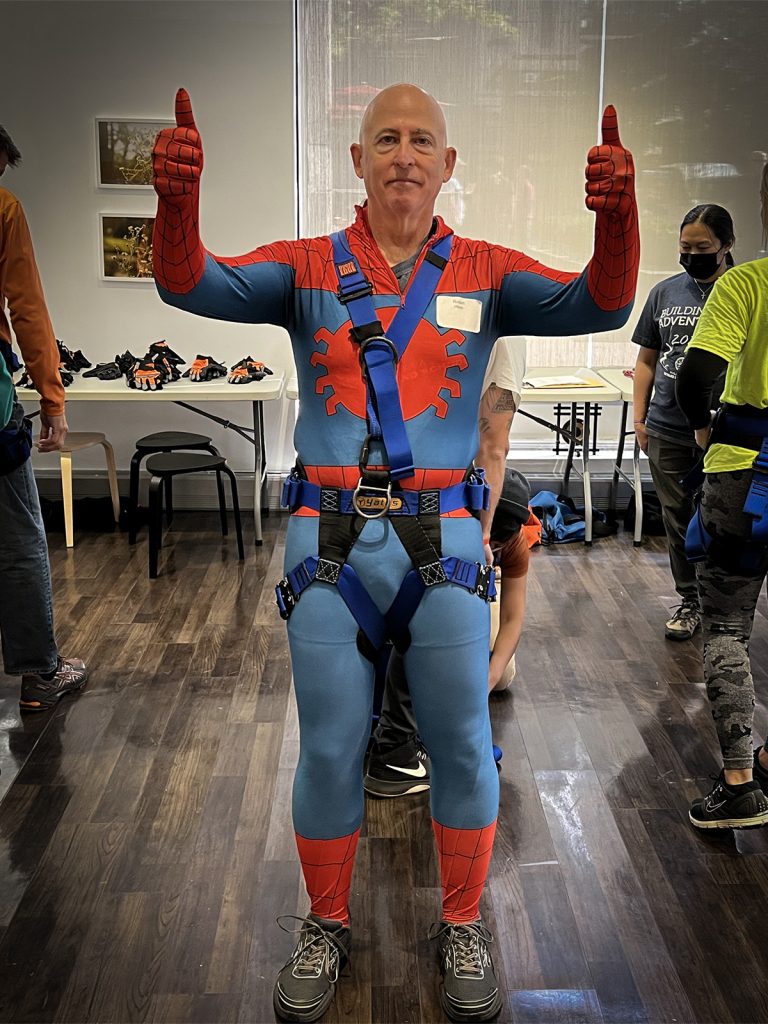 VIPS included award-winning chefs Michael Solomonov and Jennifer Carroll, Fox29 news personality Hank Flynn, and Philly sports mascots Swoop (Eagles) and Franklin (Sixers).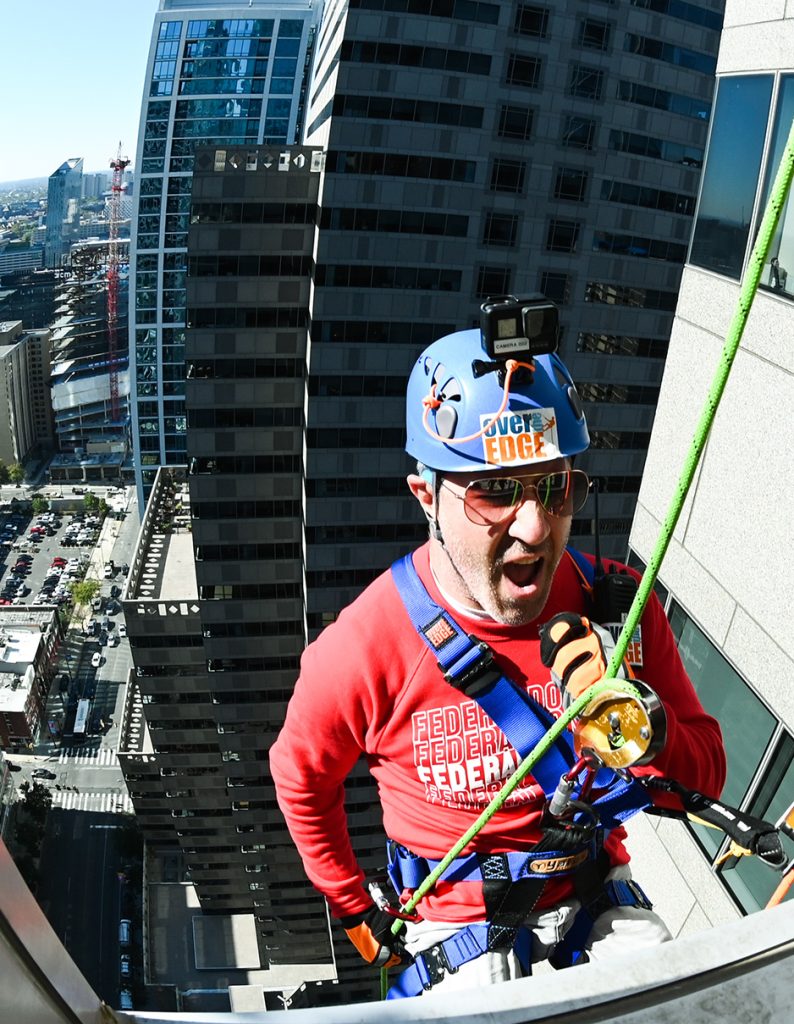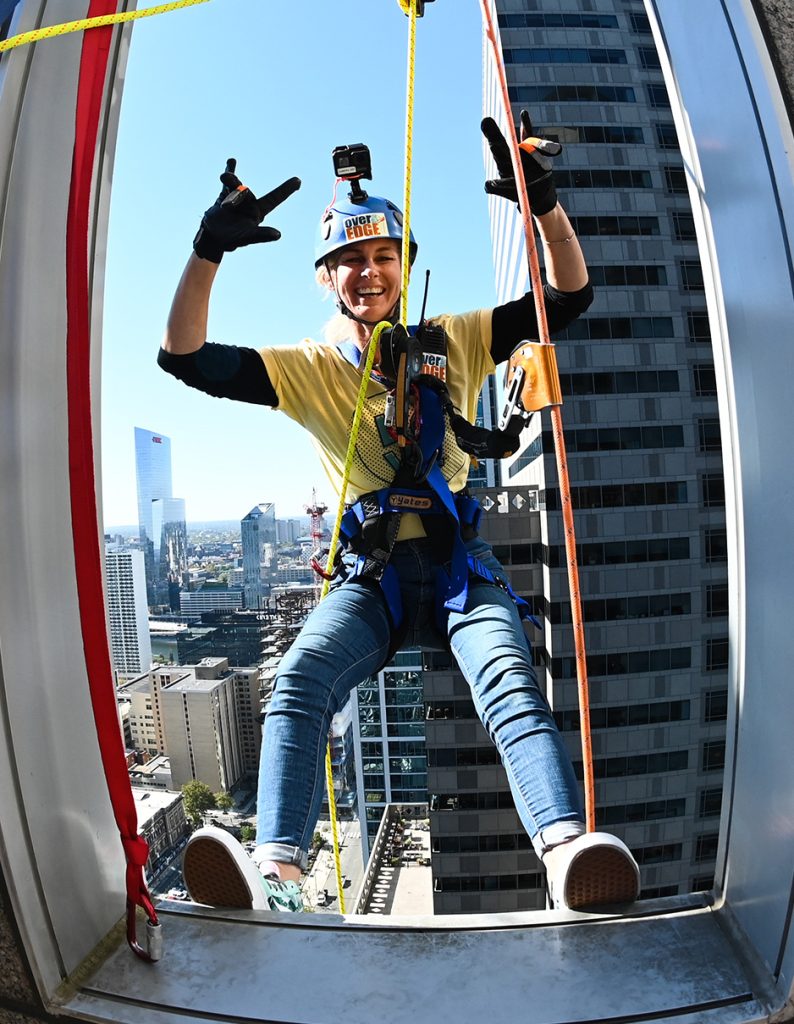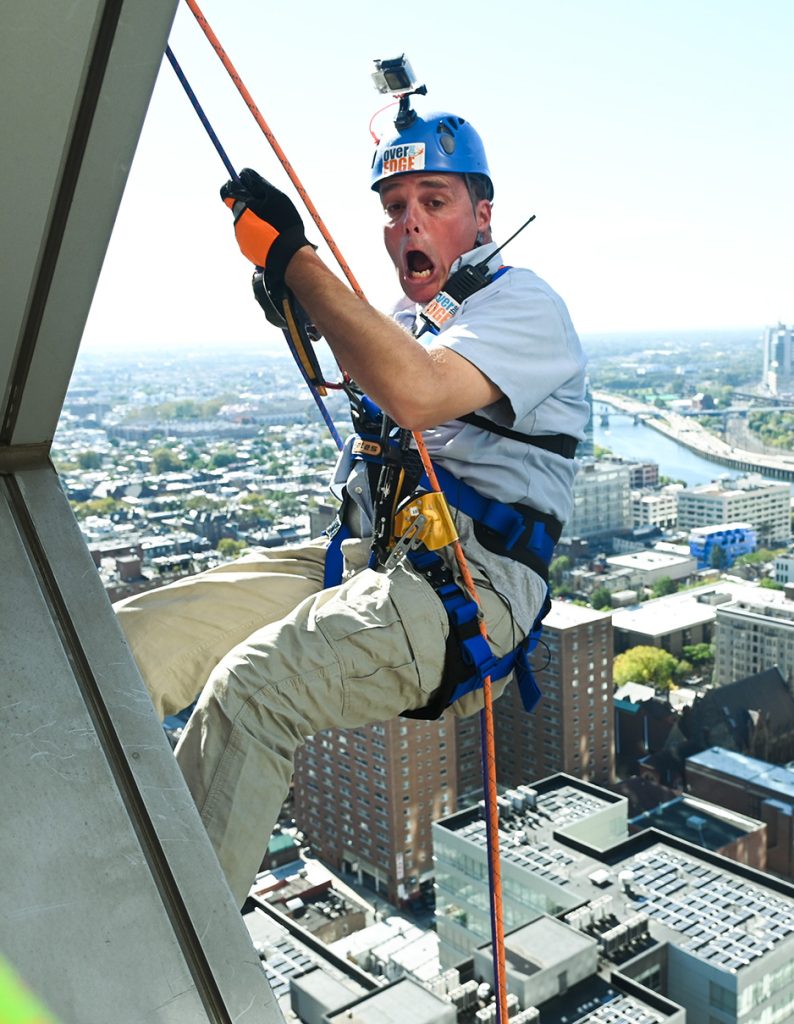 The event was covered on various Philadelphia television networks, and was featured on stations in over 40 cities across the country, including such far-flung locations as Juneau, Alaska, Shreveport, Louisiana, and Albuquerque, New Mexico (see Building Adventure 2021 in the News).
Thanks to all who participated in and supported Building Adventure 2021! 
In particular, we'd like to send a huge THANK YOU you to all of our event sponsors!