The email read simply: "I'd love the opportunity to conquer my fear of heights - put my name in."
The email was from Santo Mazzeo, a teacher at Kensington High School. He was responding to a request from the Philadelphia Outward Bound School (POBS) calling on educators and administrators who have a relationship with POBS to submit their name for a random drawing. The winner would get to rappel 29 stories down a skyscraper in Center City.
The rappel was part of Building Adventure 2021 (see related story here), a high-adrenaline fundraiser designed to generate funds for POBS to provide their signature experiential learning programs to students in the Philadelphia area.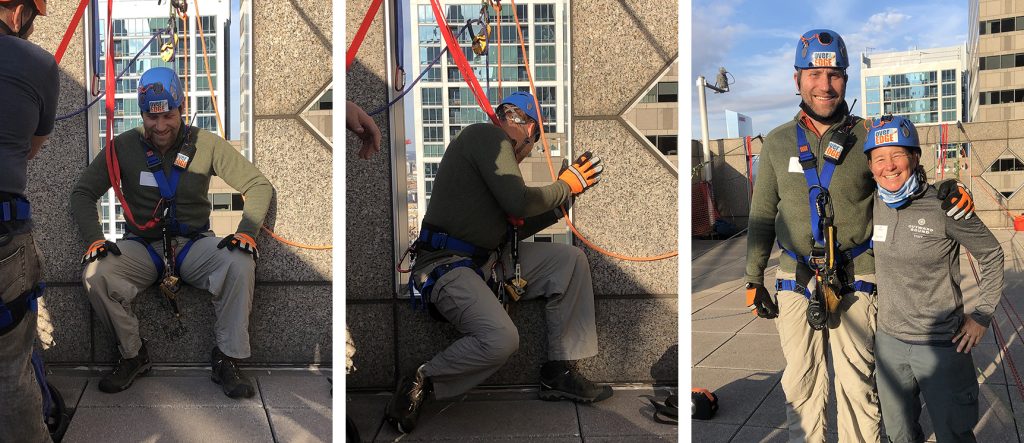 "One of our board members came up with the idea to personally sponsor a teacher who was part of our network of partners," said Kim Glodek, the Director of Education and Partnerships at POBS. "I reached out to all of the schools with whom we work and asked those interested to submit their interest via email."
Glodek received 41 responses and decided to choose two at random, a winner and a backup. "I printed out the list of entries, cut them up with scissors and literally put them in a hat," she said.  The first name drawn was Santo Mazzeo of Kensington High School.
Why enter for a chance to rappel down 29 stories with a fear of heights? "I'm a teacher and I ask my kids to do this kind of stuff," said Mazzeo. "Step out of your comfort zone, try new things. I push them so I have to push myself."
Mazzeo was one of the first rappellers to go on the day of the event, with a scheduled 8:30 rappel slot. He took some time to psych himself up. "I wasn't sure he was going to go," said Glodek, who was with Mazzeo as he prepared for the descent. "We shared a big hug before he went over the edge."
When Mazzeo finally finished his rappel, Glodek was thrilled. "I was really proud of him. He thoroughly exemplified the Outward Bound role model for his students - the way he allowed himself to be encouraged and found his inner strength. When he hit bottom he was so elated. Watching him go through the whole process was just really special."
The other name drawn from Glodek's hat was Kimberlee Holness of Blaine Elementary, one of POBS' newer partner schools. She was so excited to be drawn that POBS made arrangements to have her participate as well.
Holness actually taught her class the day of the event and then traveled to the rappel site after school. "I was squirming in my seat all day, I could barely sit still. I was really excited to tell my students. I'd never done anything like this before."
"Kimberlee was nervous like anybody would be; standing on top of a building readying to rappel," said Glodek. "And she was also excited, sharing that this is a pretty cool thing to do.  She was ready to take on the opportunity and was excited to make it happen.  Seeing her colleagues supporting her and cheering her on was great! She did great. Fearless and amazing."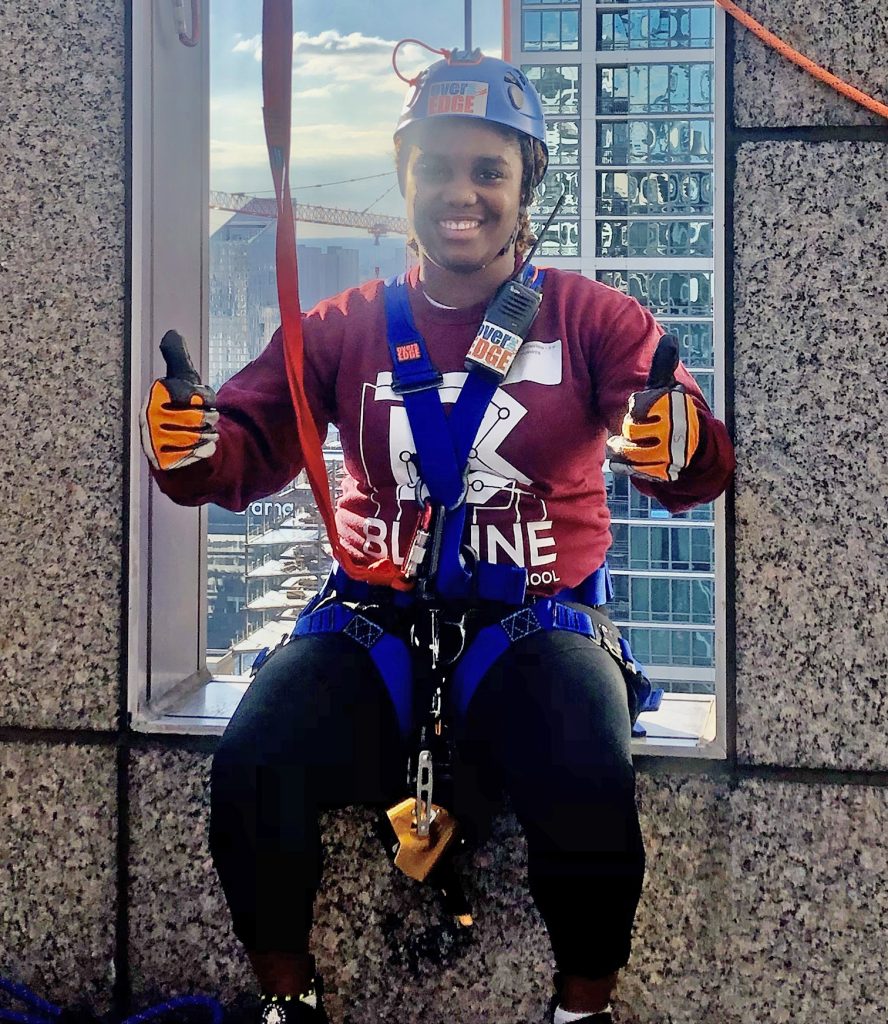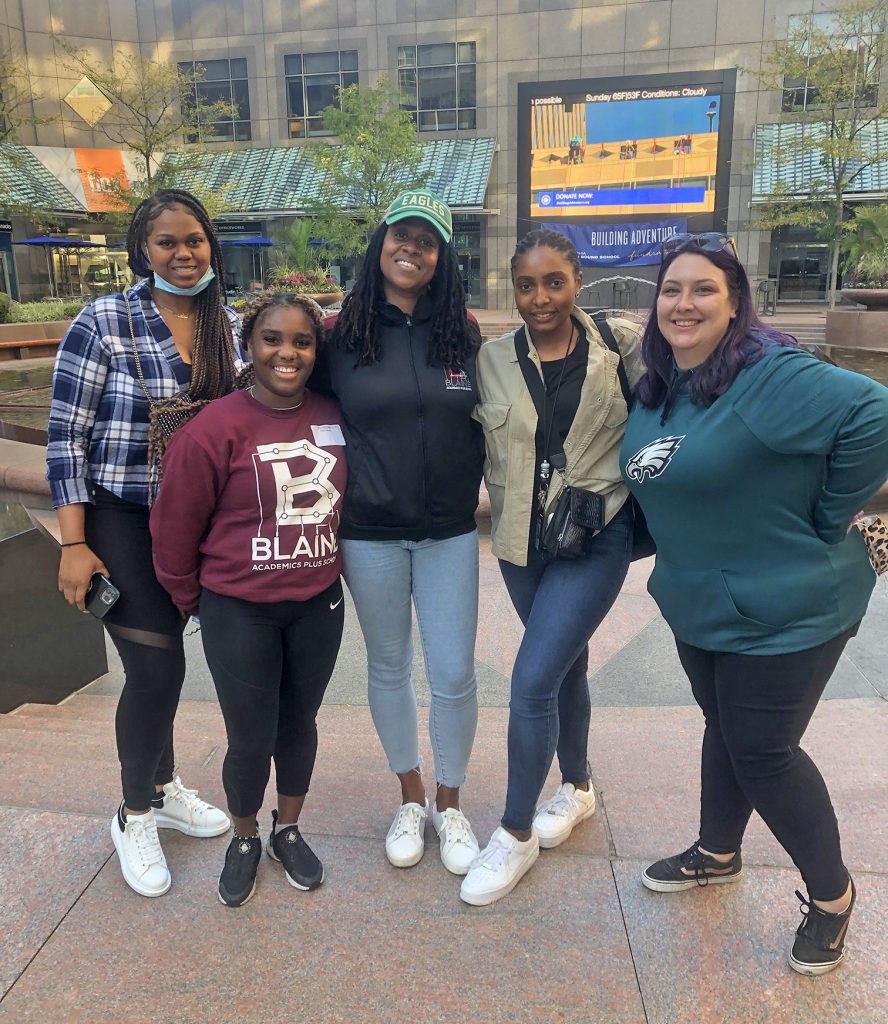 Jonathan Conant, the POBS board member who was behind the educator sponsorship, said that he believes the rappel opportunity can give teachers a "mini Outward Bound experience."
"Clearly it takes one out of their normal routine to face an unusual and, for some, a daunting challenge," said Conant. "But when their feet hit terra firma after the 30-story descent, they just beam - with relief, but also with pride. I did it! So how can you not support any teacher who's willing to give it a go?"
It turns out the teachers who won the random drawing weren't the only ones to represent the Philly school system at Building Adventure. Nancy Nayowith, the Director of Health, Safety, Nutrition and Physical Education at the School District of Philadelphia (SDP), put together a team to represent the school district and support the partnership between the SDP and POBS.
Nayowith was previously with the Palumbo School and has been involved with POBS for 15+ years, participating in a number of courses, expeditions and insight days during that time. She has even rappelled in this event in the past. But for the rest of her team from SDP, this was a first.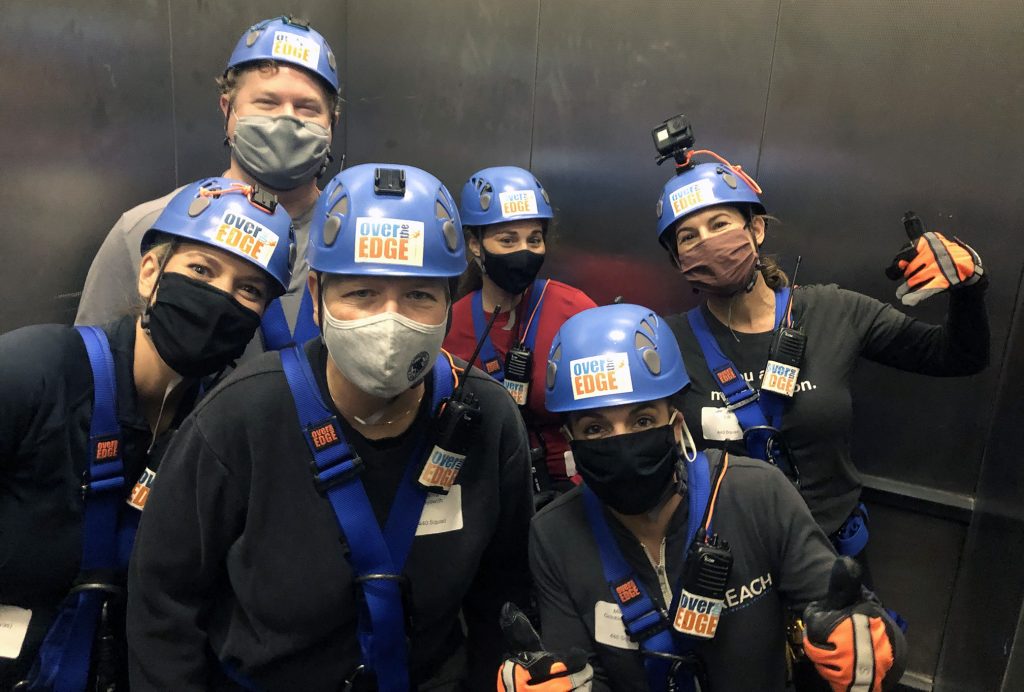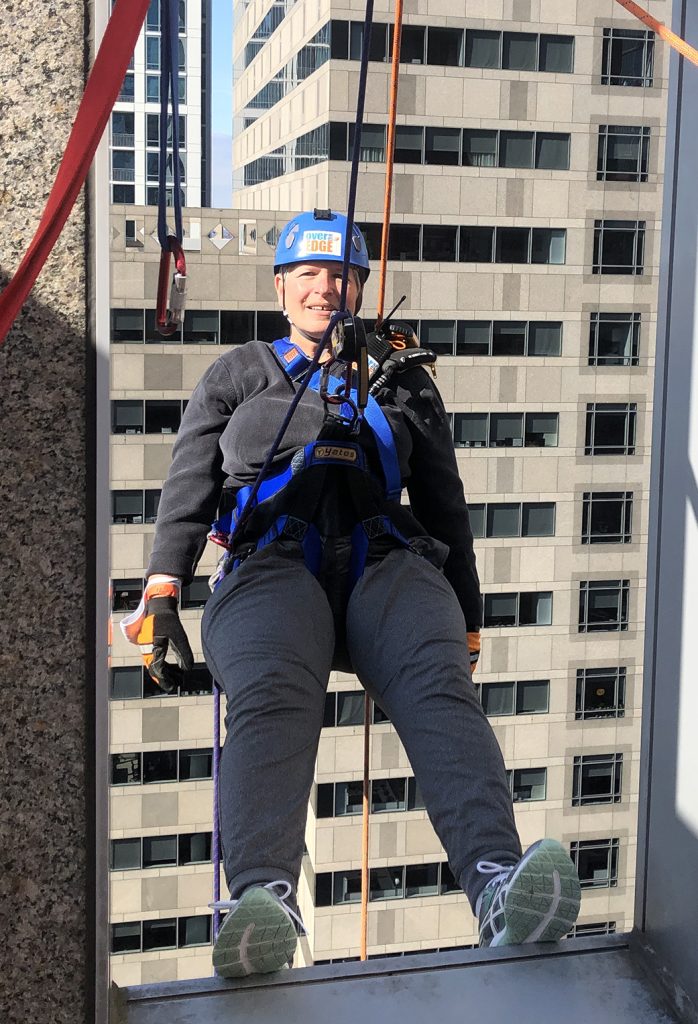 "I love the fact that Nancy put together a team from the SDP to participate in this event. It really takes the POBS-SDP partnership to a whole new level," said Glodek. "I think we'll see more of this the next time we do the event, in 2023. We'd like to sponsor more teachers, too."
Santo Mazzeo hopes to be one of them. After the event he texted Glodek, "You can bet I'm gonna enter the raffle again next time!"