Join Philadelphia Outward Bound School for an in-person screening of the documentary Breaking Trail, the story of Emily Ford's winter thru-hike of Wisconsin's 1,200-mile Ice Age Trail with her sled dog, Diggins. She is just the second person - and first woman and first person of color to complete this hike.
Afterwards, there will be a panel discussion on diversity, equity, & the outdoors featuring three passionate outdoor advocates:
Keenan Corrigan- POBS Trustee & Senior Program Manager of REI's Path Ahead Ventures
Sergio Cruel-

Journalist with FOX 29 Philadelphia & POBS alum and former instructor

Damien Ruffner- Center Manager for The Discovery Center with Audubon Mid-Atlantic
This is a free event. Refreshments will be served!
Tuesday, March 22nd
7:00 - 8:30 PM
The Discovery Center
3401 Reservoir Drive
Philadelphia, PA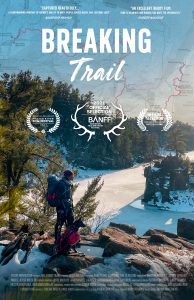 Breaking Trail Synopsis
Emily Ford sets out with Diggins, a borrowed Alaskan Husky sled dog, to become the first woman and person of color to thru-hike the 1,200-mile Ice Age Trail in Wisconsin in winter. As the 69-day journey through subzero temperatures tests her physical and mental endurance, Emily and her canine protector develop an unbreakable bond as they embrace the unexpected kindness of strangers and discover they've become figureheads in the movement to make the outdoors more accessible for everyone. What begins as an extraordinary physical and mental challenge also becomes a spiritual adventure.