A few months ago when I was interviewing for the position of Executive Director of the Philadelphia Outward Bound School, an early question was if I had ever been on an Outward Bound expedition? No. Next, would I consider going as a student? Were they kidding? Yes, yes, yes! Dog sledding in Northern Minnesota and hiking in Joshua Tree both sounded amazing, but I ultimately chose a Pulling Boat expedition in the Florida Keys the first week of January 2019, led by the Hurricane Island Outward Bound School.
A Pulling Boat is a 30' foot wooden boat with two sails and oars, designed especially for Outward Bound in the 1960s in Maine. My trip was for 8 days, with 4 other adult students and 2 instructors. Every day we got up at dawn, swam, cooked our meals on a small propane stove, sailed until dusk, and conked out in sleeping bags laid over the oars and under the stars. We rotated through the roles of captain, navigator, and cook; used a hand-held compass, parallel rules, grease pencils and maps to find our way through the "backcountry" of nearly identical looking islands; and woke up in shifts throughout the night to watch the anchor line. Dolphins followed the boat nearly every day, and we saw giant stingrays, lots of Great White Herons, and (once) a shark.
I picked this particular expedition because I wanted to develop my sailing skills. I did do that, but I gained more than I could have imagined from this experience. Without technology or really any comforts, we forged a crew from strangers and put ourselves in situations that were physically, emotionally and socially challenging. We jumped in and did our best, even when we weren't positive we knew what we were doing. On the last night, during a ceremony when each student could elect to take a pin to commemorate how we had shown self-reliance, physical determination, craftsmanship and, above all, compassion on the expedition, I was moved to tears. It had been a beautiful and grueling week and I was filled with awe for the splendor of our natural world and the power of our group to support each other throughout our journey. I can't wait to go out again.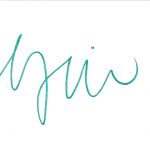 Meg Wise
Executive Director