Time spent in the wilderness gives students a much needed break and a valuable opportunity to reflect on who they are and who they want to become. We often ask students to reflect on their course experience and write about it. A student recently sent us the letter below (edited for brevity and privacy).
Dear Outward Bound,
My experience during my five-day canoeing expedition was amazing. I got to experience something that I wasn't sure I would enjoy, but I have absolutely no regrets.
When we got out of the vans at our launch point I was honestly filled with panic. I was scared that I was in a place that I had never been before and I was with a group of teenagers and adults that I had shared minimal words with. However, I was amazed by how quickly the group, myself included, grew closer with each other. I can honestly say that I made close friends with people that I had never met before.
What I expected to learn on this trip was the importance of leadership and what it takes to become a good leader. However, the thing I learned the most was the importance of working together. I also learned that if you truly want to accomplish something you have to be supportive of one another. I am extremely thankful for being with a group that was so caring and thoughtful because without them I'm pretty sure I would have just wanted to quit and go home.
I really appreciate being given this amazing opportunity and I hope others are given the same. After the course, I felt very powerful and self-confident which is something I think every teenage girl should be able to feel.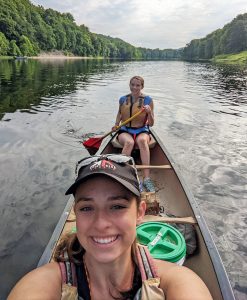 I am extremely grateful for my instructors because they truly created an environment that made it possible for us to learn about ourselves while experiencing the beauty the Delaware Water Gap had to offer at the same time.
I learned a lot about myself and the person I am capable of becoming on this course, but I also made a group of friends and memories that I will never forget.
Thank you so much for this opportunity!
Sincerely,
Victoria D.