The healthtech company's head of people shares how features like small cohorts, Outward Bound excursions and "accountability buddies" make the retention-minded program effective.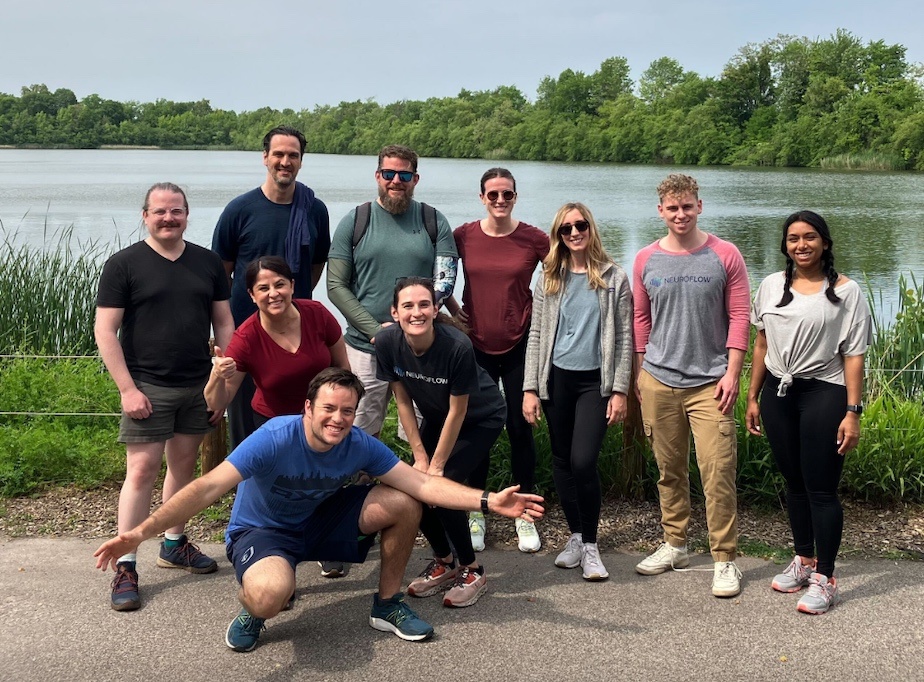 by Jen McClintic, head of the people team at NeuroFlow in Center City, Philadelphia
July 12, 2023
As world-changing innovations bubble up from shared workspaces, home offices and huddle rooms around the globe, how can we ensure that employees can see their leadership potential in a modern workplace?
A recent study by the Society for Human Resources Management shows that eight in 10 human resources managers cite employee training as a benefit to both attracting and retaining employees. It also shows that 84% of employees want their company to provide training on soft skills, and 54% noted leadership training as the top skill they wish to learn.
At NeuroFlow, a technology company helping to bridge the gap between mental and physical health care, we believe everyone can lead. By cultivating skills that support teamwork and a strategic mindset throughout the company, we are better equipped to pursue our goals with employees who feel valued and prepared to drive impact in the complex and challenging mental health space. That's why we recently launched a Leadership Development Program.
Originally based on the West Point Leader Development System that our CEO and cofounder Chris Molaro was introduced to during his time at the United States Military Academy, our program fuses leadership principles, NeuroFlow's values, and most notably, employee feedback to create a holistic experience that impacts participants as both people and professionals.
"Our program content is designed to help employees develop their own leadership style in a way that aligns with our mission and how we support one another," program alum and NeuroFlow's head of recruiting, Megan Lipset, told me.
How it works
The leadership development program, spanning eight full session days over a handful of months, explores a variety of topics — from servant leadership to achieving a growth mindset — through readings, multimedia coursework, role-playing and discussions.
To best facilitate relationship building and self-reflection, we limit the cohort to 12 employees who apply to the program and are really bought into becoming professional leaders. This way, participants can be vulnerable, feel comfortable sharing their experiences, learn from each other and grow together.
In addition to keeping the group small, we assign each participant an "accountability buddy" throughout the program not in their department, invite members to join offsite team-building activities, and host sessions with guest speakers who provide insights and perspectives beyond the NeuroFlow community. We also see how participants can put these skills to the test with guided exercises at Philadelphia Outward Bound School.
While it wasn't originally planned, it's been great to see how organically the cohort graduates have set up a biweekly check-in to create a space to share leadership wins or obstacles and how they're applying their learnings in and beyond work. These check-ins serve as sounding boards that help program alums problem-solve, overcome challenges, and pitch new ways to navigate their career.
Ongoing benefits
After piloting the program with our executive team, we've launched two successful cohorts with employees from all levels of the company. As we actively prepare for our next cohort, we already see the benefits from the shared language across our company's levels and departments that is beginning to form.
From the beginning, we were very intentional about how the course would be constructed and delivered.
"We're not just sitting around a conference room. It's very easy to slip into, 'Here's a PowerPoint. Here's what leadership means to us.'" Lipset said. "But I don't think that type of program is as effective as one that's interactive. It takes more time and energy to make an interactive program, but it's way more effective."
Our goal is that everyone in the company who would like to attend completes the program, so we can all benefit from that shared experience and continue learning together. And with each cohort, that goal becomes more achievable as the program sells itself through daily interactions.
"When I'm in a conversation with others from my cohort, topics from the program will casually come up, and someone will say something like, 'I'm going to be fully present in this meeting,' or 'I'm really working on listening,'" Lipset said. "We can instantly put what we learn into practice and create a work environment where everyone can lead, and most importantly, where everyone feels supported in leading."