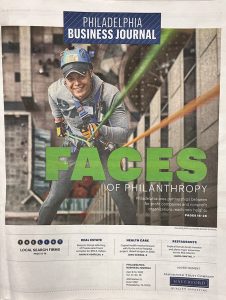 As seen on the cover of the Philadelphia Business Journal, Akin Gump Strauss Hauer & Feld with Philadelphia Outward Bound School have been selected as a Faces of Philanthropy honoree for our partnership!
Text of the article is below:
From the Philadelphia Business Journal:
2022 FACES OF PHILANTHROPY
By Lisa Dukart – Associate Editor, Philadelphia Business Journal
April 7, 2022
Philadelphia-area partnerships between for-profit companies and nonprofit organizations are taking local philanthropy to new heights.
Last fall, 119 individuals rappelled off the side of Commerce Square at 2001 Market St., navigating down the building from its 18th floor. The event, dubbed Building Adventure, served two purposes, it marked the end of a 25-year era for law firm Akin Gump Strauss Hauer & Feld at the Philadelphia office building – it relocated to 1735 Market St. – while also raising funds to support Philadelphia Outward Bound School. Doing so in such creative fashion was fitting given the school's mission to connect students to the natural world through experiential education programs. Philadelphia Outward Bound School serves over 6000 students, teachers, partners and adults throughout the School District of Philadelphia. Building Adventure raised over $315,000 for the organization, and among those rappelling down the side was Rubén Muñoz, the partner in charge of Philadelphia's Akin Gump office, who noted that "encouraging [young people] to navigate unfamiliar challenges together is important in today's world." What better way to demonstrate that than by taking a challenge himself.