After eight years serving graduate students and alumni at the University of Pennsylvania, Kristy Crocetto began searching for a job with a smaller non-profit that had ties to nature and education. Then she saw an ad that said the Philadelphia Outward Bound School was looking for a new Associate Director of HR and Culture.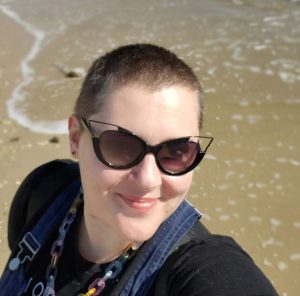 "I was thrilled to see the job posting," said Crocetto, who was particularly excited about the "culture" portion of the position. "I was familiar with Outward Bound and I have previous experience working with youth from historically underserved communities. I am very passionate about social justice, and when Meg Wise explained they were looking for someone with experience promoting diversity, equity and inclusion, that sealed the deal for me."
Crocetto landed the job and is now part of a Justice, Equity, Diversity and Inclusion (JEDI) Task Force formed in 2020 as part of the POBS Strategic Plan.  The Task Force is currently working on creating an equity statement and action plan. "We are meeting regularly with Justice Outside, a great organization that works specifically to promote racial and social justice in outdoor education," she said. 
Crocetto joins Shanna Carvell who is the new staffing manager for POBS. "I started with POBS as Logistics Coordinator," said Carvell. "I was happy to see a way to stay with this organization to match my skills and growth. I have been working in the outdoor industry for 18 years and on community and inclusion committees through those jobs for about a decade."
As POBS focuses on equity efforts, an example of success will be hiring alums of our programs as staff. The path to becoming a Lead Instructor at Outward Bound is intense and an important part of Carvell's work will be supporting new employees' progress from paid Apprentices to Assistant Instructors to Leads. 
Carvell has a personalized approach to her role. "I screen all applicants for program positions at POBS. We talk and I ask about their drive to be here – that is my main focus. I'll ask them, 'why POBS?', then explain the various responsibilities of our field positions." 
POBS Executive Director Meg Wise said, "We're thrilled to have Kristy and Shanna in these roles. They are significantly expanding POBS's HR capacity, and allowing us to commit more staff time to help lead JEDI initiatives underway."
Both Carvell and Crocetto are excited about their new roles and what lies in store for the organization. "I've been wanting to use my talents to support a greater good," said Crocetto, "and I am so happy I landed here at POBS!"